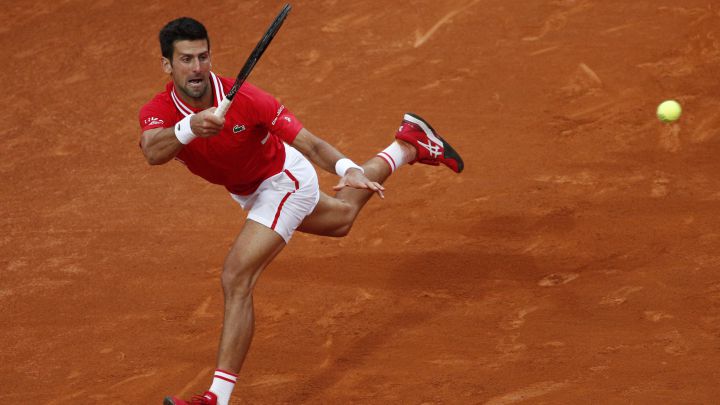 Novak Djokovic continues to extend his legacy in the ATP ranking for one more week since, with the current one, he has 322 weeks at the helm of a classification in which you do not want your pursuers to approach you.
For this reason Djokovic, who appears this week with 11,063 points, could further extend his advantage over Daniil Medvedev, second with 9,793 points, and Rafa Nadal, third with 9,630, before the three meet again at Roland Garros.
Unlike Medvedev and Nadal, Djokovic does play this week in an official tournament. The Serbian will compete in the Belgrade Open, before his public, in his last test before Roland Garros. If he won the tournament, Djokovic would arrive in Paris with great confidence and with 250 points. more of an advantage over Medvedev and Nadal before starting the assault on the second Grand Slam of the year.
The ATP ranking does not present many news this week beyond the Stefanos Tsitsipas' slight approach to Dominic Thiem in the fight for fourth place after winning the Lyon tournament. However, the Greek, with 7,500 points, is almost a thousand points behind the Austrian, with 8,445. Alexander Zverev, Andrey Rublev, Roger Federer, Matteo Berrettini and Diego Schwartzman remain in a Top-10 where Roberto Bautista and Pablo Carreño remain at the gates for another week.
The main novelty of the ranking this week is the entry for the first time in the Top-100 of the young Spaniard Carlos Alcaraz, who after winning the Oleiras Challenger, sneaks into position 94 with 815 points before facing the previous Roland Garros.
ATP Rankings as of May 24, 2021
1. Novak Djokovic (SRB) 11,063 points
2. Daniil Medvedev (RUS) 9,793
3. Rafa Nadal (ESP) 9,630
4. Dominic Thiem (AUT) 8,445
5. Stefanos Tsitsipas (GRE) 7,500
6. Alexander Zverev (ALE) 6,990
7. Andrey Rublev (RUS) 6,090
8. Roger Federer (SUI) 5,605
9. Matteo Berrettini (ITA) 3,958
10. Diego Schwartzman (ARG) 3,465
————-
11. Roberto Bautista (ESP) 3,215
12. Pablo Carreño (ESP) 3.085
38. Albert Ramos (ESP) 1,595
46. ​​Alejandro Davidovich (ESP) 1,408
61. Feliciano López (ESP) 1,072
68. Pablo Andújar (ESP) 1,020
80. Jaume Munar (ESP) 907
94. Carlos Alcaraz (ESP) 815
98. Roberto Carballés (ESP) 794
Barty continues to dominate and Badosa achieves his best ranking
The WTA ranking does not leave us big changes this week either, with Ashleigh Barty as leader one more week with 10,175 points, leading by more than 2,700 points to Naomi Osaka and by more than 3,600 to Simona Halep.
There are no changes in a Top-10 in which Aryna Sabalenka, Sofia Kenin, Elina Svitolina, Bianca Andreescu, Serena Williams, Iga Swiatek and Karolina Pliskova follow and in which Garbiñe Muguruza, thirteenth with 4,110 points, is 235 points behind tenth Market Stall.
In this week's classification, two increases stand out: that of the Spanish Paula Badosa, who achieves her best historical ranking after winning the Belgrade tournament and that this week it appears in position 34 with 1,870 points, and the American Coco Gauff, who at 17 years old jumps to position 25 with 2,420 points after winning the title at the Emilia Romaña Open.
WTA Ranking as of May 24, 2021
1. Ashleigh Barty (AUS) 10,175
2. Naomi Osaka (JAP) 7,461
3. Simona Halep (RUM) 6,520
4. Aryna Sabalenka (BLR) 6,195
5. Sofia Kenin (USA) 5,865
6. Elina Svitolina (UCR) 5,835
7. Bianca Andreescu (CAN) 5,265
8. Serena Williams (USA) 4,821
9. Iga Swiatek (POL) 4,435
10. Karolina Pliskova (RCH) 4,345
——
13. Garbiñe Muguruza (ESP) 4,110
34. Paula Badosa (ESP) 1.870
49. Sara Sorribes (ESP) 1,535