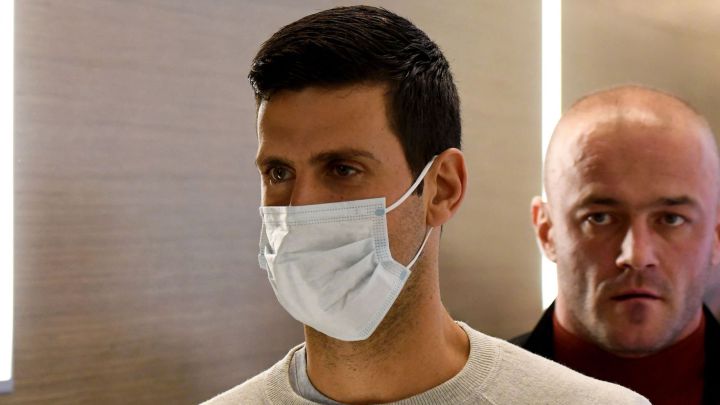 Rafa Nadal's victory at the Australian Open begins to have consequences for Novak Djokovic. After the Serbian tennis player could not play in Australia after not having been vaccinated, the Serbian tennis player could have changed his plans after seeing Nadal win the title and break the triple tie in Grand Slam titles between Djokovic, Nadal himself and Federer.
As revealed in statements to the Austrian outlet Heute by the tennis player's biographer, Daniel Müksch, in Djokovic's environment there is already talk of 'Nole' being vaccinated to avoid problems like the one that happened in Australia. "From what I have heard around him, I think Djokovic is getting vaccinated. It is possible that the Australian Open final has contributed to that and that Rafa Nadal has won the Grand Slam 21 has also made him take that step, undoubtedly".
Müksch also points out that Djokovic does not mind being the target of criticism after what happened in Australia. "The role of the bad guy in the movie is very ingrained in his character. There is a phrase of his that says that not all champions are born in the country clubs of the rich. He doesn't name names, but you can guess who he means."
Müksch also reveals that while Djokovic still has great respect for his father, he didn't like what happened in Belgrade during his retention in Australia. "Novak would never go against his father, that's how he was brought up. He doesn't like what happened in Belgrade while he was being held in Melbourne though."
The threat of Roland Garros also weighs on Djokovic
Nadal's win isn't the only reason Novak Djokovic is considering getting vaccinated, since the Serbian tennis player would have a very difficult time playing in more tournaments around the world if he does not have the complete schedule of the vaccine.
Among the tournaments that Djokovic could miss is Roland Garrossince the French government approved a few days ago a regulation that will require the COVID passport to be able to access sports events and venues, although shortly after this rule was changed, leaving the door open for the tennis player to be able to play without being vaccinated. Yes, his presence in two other major tournaments such as the Masters 1,000 in Indian Wells and Miami would be affected, since the United States does ask for the complete vaccination schedule to enter the country.