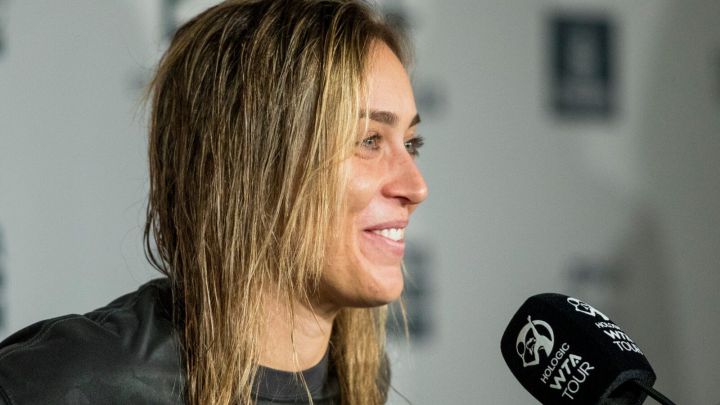 Paula Badosa appeared at a press conference after her victory in the first round of the Mutua Madrid Open against the Russian Veronika Kudermetova. The Spanish tennis player, number two in the world, analyzed a match in which Went from less to more", ending with an impressive second set (6-0). Badosa, who knew how to get rid of the initial nerves, will face Simona Halep on Saturday, winner of two Grand Slams and against whom she has never been measured.
Start with doubts: "I started quite nervous, debuting is never easy and more so here in Madrid. She started very well, serving very well and shooting very hard. I've gone from less to more, she from more to less. I've calmed down, I've adapted to the clay and I think I ended up playing very well".
Extreme hardness frame: "Yes, she sends eggs, what a draw… The truth is that it has been very hard, against Halep it could be any match of the final rounds or a final, but she has played like that and we have to accept it. It is special that I have had to play against her at home, it's going to be an entertaining match and I'm going to try to give my best".
How are you: "I've played quite a few games, but physically I'm fine. Today I didn't feel fast at all, but it was more because of the tension I had and because of the great desire I had to do well here. I'm feeling good physically and I think I'm going to go from less to more"
Playing at home, helps or penalizes: "It depends. At the beginning I was putting a lot of pressure on myself. Last year it was similar, when I'm adapting it plays in my favor because I like it a lot. In the first set it was playing against me a little because I was very nervous, but then when I I calm down and I feel more comfortable and it helps me".
First duel against Halep: "I really want to play with rivals like Halep, but I would have liked it to be later. If you want to do well in a tournament, you have to beat everyone you play. I've been watching Simona for a long time, she's someone I like a lot her way of playing, she plays very tactically, defends very well and is aggressive, she has a mixture with which I feel identified and I have always taken myself as an example. It will be a challenge and we will see how it goes because I have never played with her, I desire".
Favorite poster against the Romanian: "Do you think I'm the favourite? Yes? Okay, I accept it. It's going to be very tough. She has won this tournament, she has played a lot in the central court and knows the court very well. She plays very well on clay, she has won Roland Garros, what else can I say? It will be a very tactical clay court match. Maybe I'm the favorite or maybe not, I'll give my best because I'm sure she'll take me to the limit."
The doubles to release pressure: "We both take it like this, with Sabalenka I connect very well on and off the court, so we decided to play some tournaments together. Also to train individually, the double gives you other things, like serving, subtracting or volleying, which is perhaps something that I have to improve. I take it more calmly because you can see the pressure that the individual has".