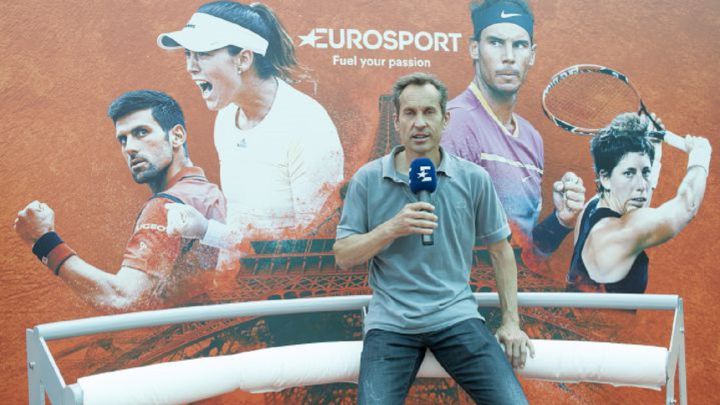 The Spanish former tennis player Jordi Arrese believes that Carlos Alcaraz is a "piece of a player" and that "he is mentally prepared" to manage all the expectations that are placed on him, but that "you should not compare him with anyone", and less with a Rafa Nadal whom he still sees "with two or three very good years."
The Catalan attended Europa Press after the end of the US Open, fourth 'Grand Slam' of the season, in which he has participated as one of the members of the Eurosport team of experts, and where he believes that the Murcian, who reached the quarterfinals, made "a spectacular tournament." "I have been following him since I was 11 years old and I love him, he is a piece of player and I have no doubt that he will be very good, but he must adapt to playing five sets. He had the Tsitsipas match, which was an upbeat level. physical, mental and technical and he was 'touched', "said Arrese.
The former player considers that Juan Carlos Ferrero's pupil should be taking "that experience" of long games in the 'Grand Slam' and knowing how to "tighten and loosen". "He has a lot of intensity, he practically plays all the points at a lot of intensity and that pays off," he warned. "But with a couple of years, he will have plenty of experience and the mentality to be a great player and do great things. You do not have to rush him, he is mentally prepared and he will not have any problem even if they put pressure on him, but he is Carlos Alcaraz and not You have to compare him with anyone, "added Arrese.
And that comparison, especially at the media level, is with Rafa Nadal. "Achieving what Rafa has achieved is practically impossible, we will see if someone surpasses it. Djokovic is the only one I see prepared and who is likely to do so, but every time the young people go up a step it will be more difficult to beat them and if they begin to believe it, it will be difficult for others because of age, "he said. In this sense, he thinks that Alcaraz is living" his first months "playing with the 'top' of this sport and that" he only needed to adapt to the intensity that is maintained on the circuit and doing many more things. "" In the first months he played with great intensity, but he is capable of doing many things and against Tsitsipas in New York he offered technical and tactical variety. If you adapt to a higher speed, everything comes very fast and maybe you just dedicate yourself to hitting the ball very hard, which he hits very hard, "he said.
The former Spanish Davis Cup captain is also optimistic about Rafa Nadal, despite his age and injuries. "If Rafa recovers, he still has two or three very good years left because he has too good a level and is a mental predator," stressed the Spaniard, who will no longer play this season due to a foot injury. On the defeat of Novak Djokovic in the US Open final against Daniil Medvedev that prevented him from conquering his 'big' number 21 and winning all four in the same season, gave credit to the Russian because he made "a memorable tournament", although it is clear that the Serbian "felt the pressure."
"It is clear that being the best in history and winning all four in a year was going to give him added pressure, but Medvedev served and played incredible. It is very normal that he had a lot of pressure, what he could achieve was something incredible, but he crossed paths with a full rival, "he commented. For the Catalan extenista, the number one in the world "rowed all the time against him" and that made him "increasingly nervous", especially because he served "fatal". "When Djokovic serves well, he has no rival because he easily wins his serves and is the one who remains the best of all. The 21 Grand Slam and the four in the same season weighed him," he analyzed.
In addition, it is clear that Medvedev "is one of the young people who has the best head", and one example was how he managed the moments in which Djokovic could "turn around" the final or the behavior of the public, which for the Barcelona native "long bordered on bad manners". "What young people have to start believing since they can dethrone the 'Big 3' should have been that way years ago. It is not normal that they did not do it before because of the level of play that Medvedev, Zverev, Tsitsipas or Thiem himself have, but it is that Rafa, Novak and Roger (Federer) are mentally much more powerful, "he continued.
Anyway, he points to the Russian as "the strongest of all by far on a mental level" of this group of aspirants and "he is an animal mentally". "And he can improve things, with that serve, which is two meters of player. I think he will continue to improve because he is an excellent player and he is improving things," he said. And about the debate on who is the best in history between Nadal Djokovic and Federer, Jordi Arrese recognizes that "each one may like more or less one, but the one that takes the most 'Grand Slams' is the one they will say is the best". "That fight is between the three of them and although it seems that winning another 'Grand Slam' is close, it is not so easy," he warned.
The Catalan also referred to the victory in the British women's team Emma Raducanu, who confirmed the current "madness" that is tennis on the WTA circuit. "It is incredible that someone who came from the previous one won and that in the final there were two tennis players aged 18 and 19 (Leylah Fernandez), but it is also true that in women's tennis we have seen different champions in recent years and, sometimes Some of them disappear or others that are there are not maintained either, "he said. Finally, Jordi Arrese, silver at the 1992 Barcelona Games, valued Pablo Carreño's Olympic bronze medal. "It was something huge and against Djokovic, it has incredible value. You see the reward later when you get all the recognition from so many people who did not watch tennis and now they value you and have followed you," he admitted.
"This is a recognition that is difficult for tennis to give and that, on the other hand, is multiplied at the Olympic Games. It is very beautiful and in my case I would not have changed it for anything, on top of that I did it at home, which for anyone has much more value on a sentimental level, "said the Barcelona man.