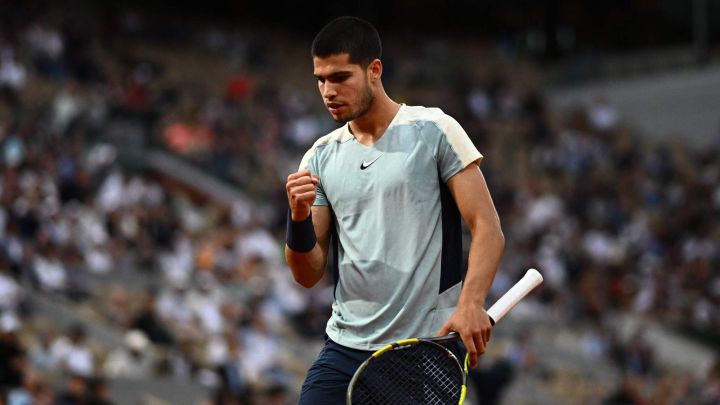 Carlos Alcaraz addressed the media after debuting with victory against Juan Ignacio Londero in the men's draw at Roland Garros, where he starts as one of the great favorites for the title after his good season on clay.
First time at the Philippe Chatrier: "It was difficult at the beginning, but it is always special to play on such a big court, a fantastic court. I am very happy with the performance in my first match at the Philippe Chatrier and I hope to play more matches on this track".
Rest after Madrid: "It suited me. I recovered from the discomfort in my foot and ankle. I spent a couple of days off at home with friends and family. I recovered, I trained a little bit and yes, I arrive prepared for this tournament".
Carlos or Charlie? "Well, I call myself Charly, but I don't care if people call me Carlitos or Charly."
The best and the worst of being Carlos Alcaraz: "I could say that the best thing about being Carlos Alcaraz is that I am achieving my dream. I am very happy playing tennis, playing this type of tournaments, on these courts, not everyone does it, and I think that is the best thing about me. The worst could say that you can't be normal off the track. You can't go to a restaurant like a normal guy and stuff.
Things to improve: "I always say that I have to improve every day if you want to be the best tennis player in the world, and that is not my case. For example, Rafa Nadal always says that she keeps getting better every day. I would say that I have to improve everything every day. And I mean everything, I have to improve in everything".
The best of his style of play: "I honestly don't know. I would say that I am always aggressive and I am always myself on the track. I will not change, although it depends on the party. I won't change my style, I mean."
Difficulty due to the expectation generated with it: "I know what it means. I try to focus on the tournaments, on the matches and try to talk to the media and have everyone talk about me. But I only get into what I have to improve, what I have to do in the matches and what I have to do every day to be prepared for the tournament."
Alcaraz then attended the media in Spanish
Welcome on the track: "I was surprised, when they said my name, everyone encouraged me, and seeing so many people was very special. I have always seen the best play on this track and being able to see myself there has made me feel very proud. I would like to lift the trophy on this track in front of everyone".
Saturday training start: "I was surprised that there are so many people here cheering me on and supporting me and I feel very fortunate to be able to live this type of experience here in Paris. Little by little I'm getting used to it, I'm taking these situations more normally, but it's always surprising".
Tournament Sensation: "I look at the phone a lot, social networks, although I try to stay away from it, but many times I see my photo or my name among the candidates to win the tournament. Zverev is a great player, he is ranked higher than me and he is also loved by the people. They could have put me in Lenglen and him in Central. I have felt very lucky to play in the Chatrier, but in another round maybe they will put him before me".
Change from playing the previous one to being the favorite in one year: "I have learned to manage many things both on and off the track. That they give me as a favorite I take it as a motivation. That in a year they give me the favorite to win Roland Garros. It's a Grand Slam, there are many players capable of winning it and being given the favorite gives me extra motivation. That there are so many people supporting me in a Grand Slam is important and I'm going to try to take it in my favor".
Improvisation at points: "There are many times that I don't have planned shots, which are improvisation. It depends on what the other player demands of you. In the end you don't know what shot he is going to make and in a second or less you have to decide what shot to take. My style is always hit him hard, try to be aggressive, go to the net, so the slightest thing he leaves me a ball that I can attack, I'm going for it".
Work for this resounding change: "All the experiences that I have had this year, from Roland Garros last year until now. I have played great matches against great players in great stadiums that have made me mature quickly. On this clay tour I have been playing very well, with a lot of confidence. I am glad to know that the players have respect for me when they enter the court and I try to take that in my favor so as not to leave them a margin, that they may be ahead or think that they will have it uphill in the match".