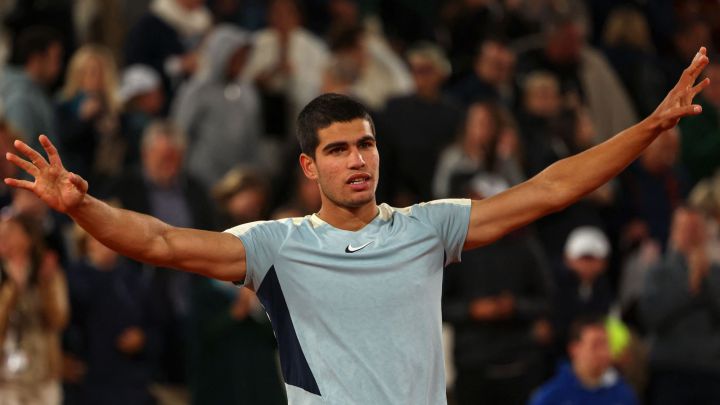 Spanish tennis player Carlos Alcaraz appeared before the media after defeating Russian Karen Khachanov in their round of 16 match in the last match of the day. The Murcian tennis player revealed how he feels about facing Alexander Zverev again after beating him in the final of the Mutua Madrid Open and raised his voice about the possibility that the match against the German would be played in a night session, since he would play for the third time in the tournament this turn.
State of form after beating Khachanov: "I'm feeling pretty good, really. I'm playing great games. I'm very happy with the level I'm showing and right now we have to try to give the level I'm giving and physically and mentally try to maintain that level"
Djokovic-Nadal in the quarterfinals: "A Djokovic-Rafa is amazing to watch and experience. I think it's going to be a great match and obviously for tennis fans it's a great match. But right now I'm focused on the quarterfinals against Zverev and we'll see later."
Possible match with Zverev on the night shift: "It would not seem fair to me to play against Zverev at night. I have already played twice in the night shift. I am not saying that it bothers me to play at night, but that I have less time to rest, everything ends very late… It seems that everything ends at twelve but everything that is behind, dinner, physio and trying to rest with the adrenaline that is after the game costs more to recover. If I play a third time at night it would not seem fair to me".
How he faces the match against Zverev: "I'm going to try to start like in Madrid, try to take advantage of the opportunities I have, try to put a lot of pressure on him from the start of the game, but I know it's going to be a very tough and tight game".
A different Zverev from Madrid: "Everyone knows each other very well. I think this game is going to be different. I'm going to wait for the best Zverev I can think of and from there we'll see how the game goes."
Promotion of Real Murcia: "I followed the match before playing with Khachanov, I'm very happy."
The most important game of his career, against Zverev in the quarterfinals: "Probably it is, but I don't think about that. There have been great games and great moments, I wouldn't know if the best or the most important because I've played Masters 1,000 finals and I've played very complicated moments too and very important for me. It goes It's going to be a very important game."