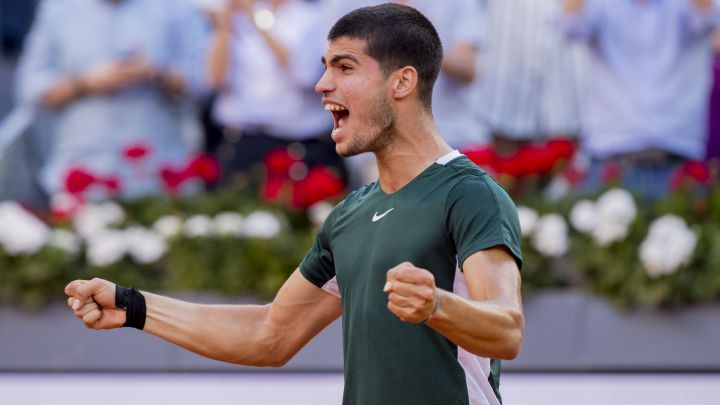 Carlos Alcaraz appeared in the Caja Mágica press room an hour after beating Novak Djokovic, and still with the smile that stays on your face after beating the number one in the world. The Murcian admitted to being prepared to compete with the best in all tournaments, although when asked who is the best in the world now, he sums up with that "In the ranking I have eight players ahead of me". These are the words of Alcaraz after a new day to remember.
Sensations: "It's spectacular, I'm very happy to be able to play these games and to have beaten Rafa yesterday and today to number one. It gives me a lot of confidence for tomorrow".
Head, heart or balls: "I can not say one, but today I have thrown head and … balls."
How do you beat Nadal and Djokovic: "To beat Rafa you have to have a very good backhand, and yesterday I played an impeccable match with it. They are going to melt you, and I did very well being aggressive and going forward. Rafa attacks the backhand area a lot and being aggressive with it is one of the keys. And today, being consistent throughout the game, being aggressive and knowing the moments of the game. I've been linear and I've gone for it. I haven't made the most of the opportunities, but the key is to be constant and aggressive.
Best tennis player in the world: "Djokovic because he's number one, but I wouldn't know how to tell you. Both are among the best in history. In the ranking, Djokovic is number one. I'm not going to tell you… now I'm number nine, I still have eight players left for forward to be the best in the world".
Enjoy: "Good victories must be enjoyed, without going overboard, but you have to enjoy them. With my family and my team we will have time to have fun. But tomorrow I play the final of a great tournament and tonight I will be focused to recover for the game of morning".
Comeback: "You had to be there mentally. In the first set I was very close, I knew I was going to have my chances in the second. Anything could happen. At the end of the first set, I knew I had to keep going because it could happen."
Third set tie-break: "You have to go for the game. In those moments the top players are reflected. You see the difference between a good player and a top player. I want to differentiate myself in that, in going for the game in those moments. If I lose, At least I leave with the feeling of having dared to go for the game. Today I wanted to go for it no matter what."
Best day of his life: "I don't know. Probably, it's one of the best, without a doubt, but surely in a while, or maybe tomorrow I'll say it's the best day of my life."
Rest: "Change until you take the distance, the good feeling to be able to return better. You are putting remains and it gives you confidence little by little. The remains little by little went in and everything adds up. I have ended up taking the good touch, putting more pressure. I thought that little by little it was going to get better".
Being among the best: "I would say yes, I feel ready to compete against them in all tournaments and surfaces. A Grand Slam is different because it's the longest matches. I think I'm ready. The best have been going this far for a long time because they are longer matches. , they're made of a different paste. I think I'm ready."
Dropped: "I train them, but it comes naturally to me since I was little."
The best of the game: "I played at the same level from the beginning to the game. We both played a great game, I was aggressive. There were great points and I played at the same level."
Development in the last year: "Now I'm more mature to manage the toughest moments, everything on court. I can play long points, I manage my nerves better. I'm ready to play against players like that."