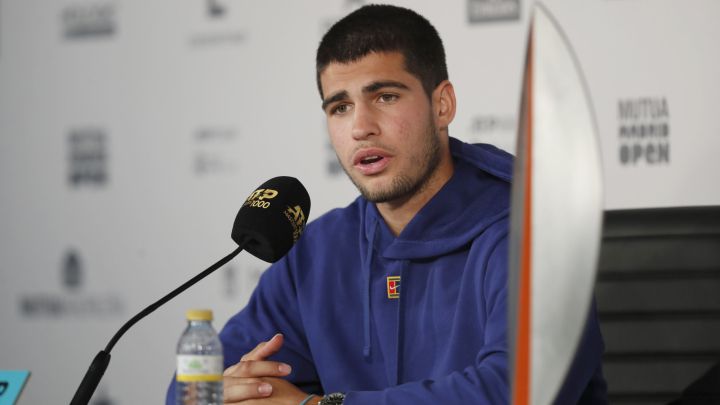 Carlos Alcaraz continues to receive tributes in Murcia after winning the title at the Mutua Madrid Open. A trophy that allows him to establish himself in the tennis elite as evidenced by his rise to number 6 in the ATP ranking.
Carlitos will not only receive sports titles, since this Tuesday the president of the Region of Murcia Fernando López Miras announced that Alcaraz will receive the Gold Medal of the Region of Murcia on June 9, Region Day, in recognition of his achievements despite being only 19 years old, and placing both El Palmar and Murcia on the world map with his triumphs.
However, Alcaraz does not set limits and once again stated what his great goal is on the circuit: to be number one in the world. "Now there is a very big jump. To be number one in the world you have to win Grand Slams, you have to be constant in winning this type of title and, right now, for me it is something new. I have won two Masters 1,000, two ATP 500 but to be number one in the world you have to do this many times and very often. It's going to be complicated but I think If I continue along the path that I am going with my team and working, I think I will see myself number one in the world", assured in statements collected by Sports in La 7.
Regarding the distinction of the Gold Medal of the Region of Murcia, Alcaraz assured that "I feel very lucky and very proud to be able to receive the Gold Medal of the Region of Murcia besides being the youngest to receive it in all history. For me it is an honor that I will always carry with me. The Gold Medal of the Region of Murcia I will take it to every tournament and every place and country I go to." Word of an Alcaraz who now wants to place Murcia at the top of world tennis."