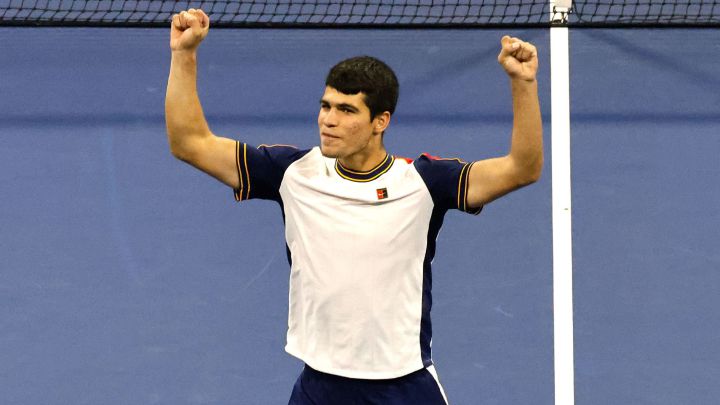 Carlos Alcaraz, increasingly made to the press conferences in the main hall of the US Open, attended the media after beating German Peter Gojowczyk in five sets and making history by reaching the quarterfinals at the age of 18.
Sensations: "I'm very excited to be in my first second week at the Grand Slam, so it's amazing for me. It is a dream come true".
Expectations: "It is very difficult to play these types of matches, to play fifth sets. I hope to play more second weeks, play more Grand Slams quarterfinals ".
Favorite: "Nerd. I knew Peter is a really good player. I had to play at a high level, so I tried not to think about the Tsitsipas match to focus on this match, I knew it was going to be a very difficult match.
Tactic: "The first set was very, very tough. I think I made two breaks and ended up losing, but I started the second one with more power ".
Isolation: "I don't really read what they write about me. Yes, I know that in Spain people talk a lot about me and I try not to think about this. Just focus on New York. "
Help from the public: "In the first sets I thought I was reaching my limit physically and mentally. And people were very, very important to me in this situation. I felt the energy of the audience pushing me up. Without them, I wouldn't have gotten here. "
Pressure and change: "I come quite confident. Friday's game against Stefanos gave it to me. I think I'm playing at a very good level. In each round there is a great player in front of me, who wants to win and is going to give up everything to try. I have to try to do my best and think that every day is new. I should not give importance to what was behind, but to keep focused on the following ".
Learning: "In both games I have learned a lot. In one, for facing the nerves of playing against a great tennis player like Tsitsipas and this time, for knowing how to face difficult moments ".
History: "They are good data, they impress a little bit, but they don't mean anything if later I don't get to where the best in history did. Each one has to go their own way and get to where they have dreamed of ".
Suffering: "It has been more difficult for me to enjoy myself, but there have also been times when I have done it. But to carry out this type of games is enjoyed a lot ".
Dreams and goals: "I am an ambitious boy, who always wants more. Being in the quarterfinals is incredible and I didn't expect it at all. But I believe in myself, I believe in my game and how I'm doing it. Thinking about it cold, I think I can be here, in this Grand Slam and in those to come ".
Examples and videos: "I love watching videos, watching tennis whenever I can. I have seen matches of Juan Carlos (Ferrero) and millions of Rafa (Nadal). From each one that I see I try to learn new things, I imagine myself there and I try to take the good things that they do, to adopt them. Every time I am with them, I try to speak little and listen a lot, that's how good things are taken ".