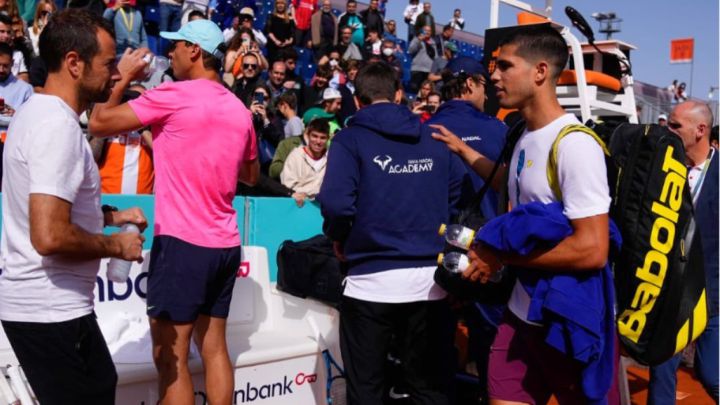 Carlos Alcaraz and Rafa Nadal, the two great stars of Spanish men's tennis, met this Friday on court 7 of the Caja Mágica in his preparation for the men's draw of the Mutua Madrid Open, which starts on Sunday. The 18-year-old from Murcia trained from 10:00 before going to the official presentation of the tournament in the city Hall from the capital of Spain. At his start, he crossed paths with the 35-year-old Balearic, who practiced from 11:00 to 13:00 with Pablo Andújar. He will also do it this afternoon from 16:00.
The coaches of both, Carlos Moyá and Juan Carlos Ferrer, who were also teammates and rivals in their day, in addition to reaching world number one, chatted while his players found themselves in the middle of a great expectation. This afternoon they will meet their possible rivals in the second round, since both are seeded and are exempt from the first. The draw will take place at 16:30 and can be followed by Mutua's Twitch channel.
Among many other things, to Nadal and Alcaraz are joined by their fans of Real Madrid, who will play for the pass to the Champions League final against Manchester City next Wednesday. If the calendar allows it, it is possible that they will go to the Santiago Bernabéu to cheer on their team.