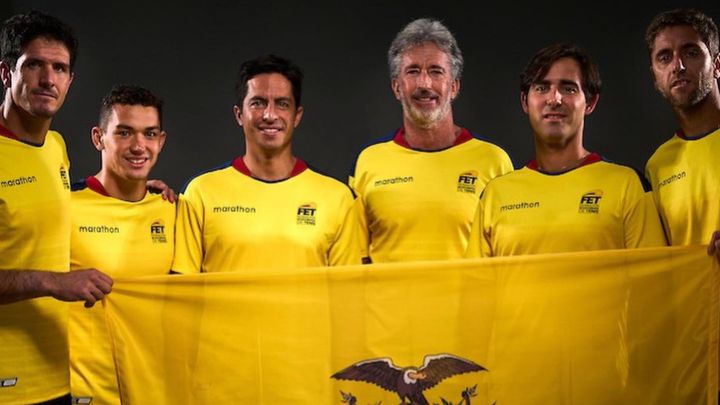 Ecuador is, without a doubt, the Cinderella of these 2021 Davis Cup Finals. But Spain's rival this Friday (4:00 p.m., Movistar) is a proud and respectable team, who won the place by beating Japan in the qualifying round, against the odds and at home, although it is true that the Japanese team did not compete with their best players. However, the group that has been captained by Raúl Viver for 28 years (competition record), and led by Emilio Gómez, with 17 nominations and the son of 1990 Roland Garros champion Andrés Gómez, won 3-0 that series.
Ecuador, number 24 in the Davis ranking, has as its greatest success in the competition the quarterfinals it reached in 1985 and the American Zone championship in 1967. Davis' record is 61-54 in 55 years, with six interventions in the World Group. Its great historical reference is Nicolás Lapenti, world number six in 2000, who holds the absolute record for victories in five sets (13) and It is the one that has harvested the most for its country both in total (61) and in individual (41), apart from being the one that has played the most heats (38) and has competed for more years (17), ahead of the aforementioned Andrés Gómez. His son, Emilio (29 years old and 149th in the world), is the number one of a group that is completed by Roberto Quiroz (29th and 291st), Diego Hidalgo (28th and 166th in doubles), Gonzalo Escobar (32nd and 39th in doubles) and Antonio Cayetano March (21 and 701º).
"They are 28 years old, it is a great satisfaction and I value it very much because with a team that does not have a star like Spain, Russia or other countries have, top-10 players, we have arrived here perhaps against all odds based on a union, a teamwork and a lot of effort ", says Viver. "We know that we are the team in the weakest role by ranking, but we will always go out to fight in all series despite not being favorites. A friend of mine asked me how I saw it and I told him that we were going to look for qualification, to win. And he told me that I had to be realistic. And I told him that I like to go to win, not to go for a walk and see what happens, "he adds.
"At Davis there are surprises, we believe in that"
Emilio Gómez, soul of this Ecuador, who will turn 30 on November 28, faced Pablo Carreño this same year in the second round of Indian Wells and lost 6-1, 6-4. "He won me comfortably, but I realized things, and I'm not going to turn out the same now, I will fight as equals. We have the advantage that they don't know us much, even though we have little chance of winning. At Davis there are surprises and we believe in that "says the one from Guayaquil. The number two, Quiroz, one of the 13 left-handers in the Finals, only has previous experience against Spaniards, when he faced Albert Ramos in Quito in 2018 in the round of 16 and fell in three sets (6-3, 3-6 and 6-3). "Being here is an incredible experience. From the moment we arrived we have felt very comfortable and we are at a great level. We really like the conditions. Small details have to be adjusted, but the team is very good from the captain to the last person who has helped us, "says Gomez. "Our task is very difficult, because we have the two great powers in the group, champions in the last two team tournaments, Spain and Russia, "says Emilio, who will come out, like his teammates, without complexes against the current champion.