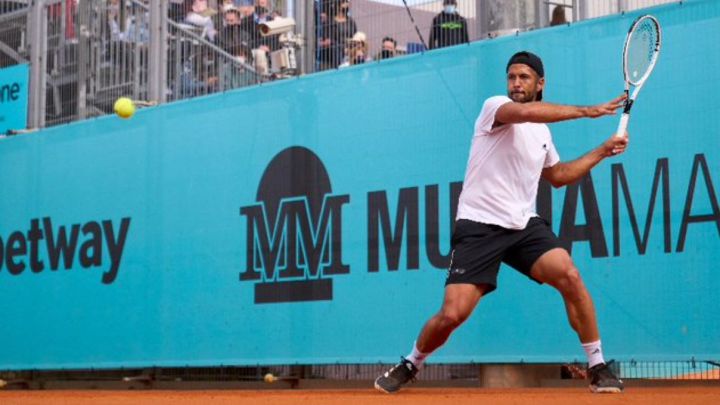 Fernando Verdasco (Madrid, 37 years old) did not want to miss the Mutua Madrid Open for the world. His friend Feliciano López, tournament director, invited him and this Monday, in his 18th participation (a record he shares with Rafa Nadal), he faces the Chilean Christian Garín after undergoing surgery in November for an injury to his right knee and overcome COVID. He played again in Miami and Estoril, he is already vaccinated, and he believes that the ATP should lower the bubble for tennis players who have antibodies. He spoke with AS about that and more.

How did you find yourself on your return?
I was going to return to Doha and I postponed it to Miami because I continued to have pain in my knee (right) but in a different area from where I had been operated on, and I had an MRI scan and they saw that I had bone edema in the femur area that rubs against the kneecap. So I gave up Doha and Dubai with the idea of ​​being in Miami. Before I went to Los Angeles so that the doctor who operated me could see me before I started preparing for the competition. The tendon was very good, in a still premature period within the recovery, but that could increase the intensity, although it would continue to bother me and cause muscle pain. In Miami everything hurt when I started playing in training. I competed there although I wasn't 100% sure if my knee would hold up after another MRI. I hit the track having taken a pill to relieve intermittent pain in explosive impulses or changes of direction. So it was difficult to win, but I decided to play with what I had, because I already wanted and couldn't wait much longer (he lost against Fratangelo and last week he returned to compete with a loss to Ramos).
Do you think you can get back to your best level?
I am happy because I am 37 years old and after an operation I feel much better than before. I hope I can be pain free soon and play 100%. But above all, do not be afraid. Now I have to wait to see how the knee reacts, if it swells or not, and be able to continue pushing in training and games.
Did your second parenting have something to do with the decision to have surgery?
No, because I already knew that I would not be able to play for four months and I had surgery on November 4. With the surgery that I had, with stem cells in the tendon and with the time necessary for it to regenerate from the tissue that was removed, which was causing me chronic damage, I already knew the recovery period. The intervention was made by the doctor who operated on Pau Gasol's knees and told me that he continued to feel pain in the fifth month afterwards and was worried. So I already knew what could happen. It is an ailment that must be given time and not even with the best of treatments will you save yourself from being out for four or five months.
Since when did you have an injured knee?
I had been in pain for a year and a half, and my goal was to go back and be 100% physically without that pain. I'm much better and if I have to play fewer tournaments than planned, nothing happens, because what I don't want is to go back in the process that started in November.
In Madrid he could not miss …
There it was clear to me that I was going to play yes or yes, injecting myself or whatever. It is my city, the home tournament and if there is a place to make an effort, this is it.
Is staying on the ground good for you because it is a less damaging surface?
In part yes, because the friction is much lower, although the muscular wear is greater, because the points are long and physically you have to be very prepared. In hard, the points are often serve, or serve, rest and a ball. On clay you have to fight and your knee, tendon and quadriceps have to be fine so that the puzzle does not fall apart.
That's the most important thing, because I suppose that for you, playing tennis is like riding a bicycle …
Tennis is clear that you have it, but after a long period of competing or training to the fullest, you need a training time and a few weeks of competition with the sensations and intensity of the matches. Veterans, with a very long career, like Federer and Nadal, we have to be smart and play when our body is at 100%, not at 70 and in pain.
What is your medium-term objective?
The first thing to return to normal in the circuit. With the pandemic and the bubbles, which affect us all, even those of us who are already vaccinated like me, with antibodies, they make me be locked up with tests every three days. I have told those of the ATP that what is the sense of being vaccinated, that everything returns to normal, right? I think we should no longer be with the same restrictions. They have told me that they are going to begin to relax them a little, because they will be like this week after week, without being able to go out or go to the supermarket to buy milk. Afterwards, I want to compete again without pain. I always want to win, we are all winners because if not, you won't reach this level, but the first thing is physical. Then the idea is to recover the level of play that I had in 2019. In Rome I played very well, in Madrid I played very good games … For that I have to train hard.
Are you traveling with the family?
Whenever I can, with Miguel, Mateo and my wife. Now with two children it is twice as hard and with the bubble it is more complicated. We take it as we can and the truth is that I really enjoy them and it is a joy to have them by my side.