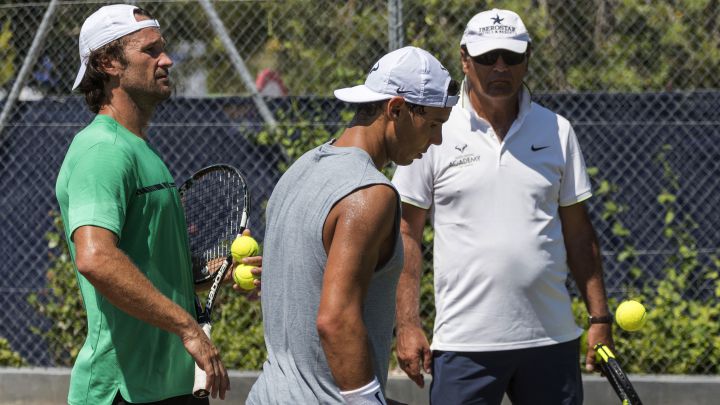 Toni Nadal was, without a doubt, one of the people who most celebrated his nephew Rafa Nadal's title at the Australian Open after beating Daniil Medvedev in the final and thus becoming the male tennis player with the most Grand Slam titles with 21, breaking the triple tie at 20 that he had with Novak Djokovic.
After this historic achievement of his nephew, Toni Nadal spoke with AS to analyze in detail the feat that Rafa Nadal had achieved to everyone's surprise. "Yesterday's victory means another step in Rafael's quest. We are surprised to see how a boy like him has won the title despite the fact that he had come without any preparation, with very few games after having many problems during all this time.
'Uncle Toni' also wanted to make clear the self-improvement exercise carried out by his nephew during the final against Medvedev. "The truth is that I greatly value both the match and the entire tournament and Rafael's ability to overcome himself in the moments of greatest adversity. Something that is also very noteworthy from yesterday is self-control, how one does not despair when everything is against him, when he manages to equalize the match even without playing very well in the first set, equalizing in the second with many options to take it and loses them; he is 3-2 and 0-40 and the game seems to be practically over and The guy goes on and on fighting as if it were his first Grand Slam. I greatly appreciate my nephew's work."
Toni Nadal, a key figure in the development of his nephew's success, believes that Nadal's victory is one of the greatest of his career because of how he achieved it. "For me it has been one of the greatest feats for everything that happened before and for what it means after".
Despite watching the match from a distance at the Rafa Nadal Academy, Toni Nadal experienced this match in a very special way, since he accompanied Rafa in winning his first title in Melbourne in 2009, in one of the most special tournaments for the Nadal family, who over the years have already made great friends in Melbourne. One more example of the humility and tenacity that Toni instilled in Rafa and that the tennis player continues to display with his great example both on and off the court.