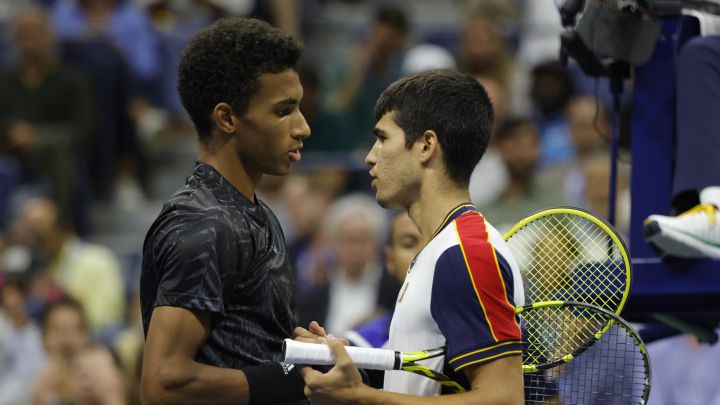 The NextGen It began a few years ago with the emergence of talented and promising young tennis players, who were called, in theory, to take over from the Big Three in their dominance of the circuit. Names like those of Grigor Dimitrov, David Goffin or Dominic Thiem, were some of the first banners of this revolution, but although they have achieved prestigious achievements (ATP Finals in the case of Dimitrov or the US Open by Thiem) none of them succeeded in overthrowing the tyranny of Federer, Djokovic and Nadal.
The replacement of these precursors of the NextGen was given by players currently settled in the circuit, what could be called an 'improved version'. This has been demonstrated by tennis players like Alexander Zverev, Stefanos Tsitsipas and Daniil Medvedev, the last three winners of the Masters Cup and capable of signing achievements such as Olympic gold in the case of the German. But with almost no time to glimpse the bright future that still lies ahead of some players who have presented their candidacy to dominate the circuit with the absence of the Big Three, already other names are rearing their heads that in the near future will give a lot to talk about.
It's almost time for the women's singles final 🔥

Who will leave New York with the win?

– US Open Tennis (@usopen) September 11, 2021
This edition of the US Open has demonstrated this, being the confirmation of other even younger talents, such as the case of Carlos Alcaraz and Felix Auger-Aliassime. Both took a step forward in their short careers by achieving their best results in a Grand Slam: the Spaniard reached the quarterfinals (withdrew due to injury to Aliassime himself), while the Canadian stayed in the semifinals (eliminated by Medvedev). Both dazzled with a colossal level of tennis, which at 18 (Charly's case) and 21, respectively, makes it unthinkable to imagine what they will be capable of in the years to come. And in this generational change we cannot forget the Italian either Jannik Sinner, that with just 20 springs is already established in the elite of the circuit with his three ATP titles and his 16th position in the ranking, Norwegian Casper Ruud (22 years and 11th) and Canadian Denis Shapovalov (22 years and 10th).
WTA Revolution
In this inexhaustible appearance of promising youngsters, the women's circuit has also confirmed two great stars of the future at this US Open. Despite the fact that in the last two years young figures have appeared with enough level to win Grand Slams, cases of Naomi osaka (Australia and US Open), Sofia kenin (Australia) or Bianca Andreescu (US Open), the relay is already guaranteed with the discovery of Emma raducanu (18 years old) and Leylah Fernandez (19 years old), who have burned learning stages at the speed of light to star in the final in New York, the first of their respective careers in a major where they never got that far. All this without forgetting one Cori Gauff, who at 17 springs has established herself in the noble zone of the WTA ranking (23rd) and that it is destined for great successes in the short term. The relay of the relay, the 'NetxGen' of the 'NextGen' …