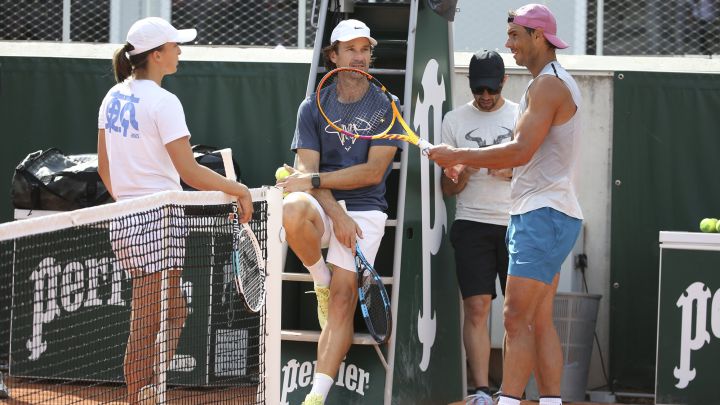 Carlos Moyà is one of the main architects of Rafa Nadal arriving in the best possible shape to fight for the title in each tournament he plays. The Mallorcan coach gave an interview to the ATP before the start of Roland Garros to analyze how he and Rafa Nadal face this new challenge at the Parisian Grand Slam.
Moyà confessed that the title at the 1,000 Masters in Rome has been a turning point in Nadal's clay court season. "Nadal arrives very well. We have combined specific matches and training sessions. The preparation has been good but the Rome Masters has marked a before and after, especially after the match with Shapovalov. Until then he had had doubts, with better days and worse. Since winning, he has stepped forward and found the consistency he was looking for. I am sure that you can still see a new version of Rafa, as he is showing in training. Now we have to try to make him play at that level in the tournament "
The Mallorcan also revealed the difficulties that Nadal has gone through at the start of the clay tour. "Rafa had prepared the gravel tour very well and the match against Rublev caught us by surprise. Not because of the defeat, but because of the way he played. That match weighed heavily on him. We didn't see the same Nadal as before that day., not competing or training. Yet he kept winning and found the day when your head clicks. He overcame adversities against Shapovalov and then had a very tough match with Zverev, who had beaten him in Madrid and played at a great level. That gave him confidence and he played very well. He played the final with Djokovic at a good level, but he has the ability to play better "
"He started the game with five double faults, I've never seen that in him"
Difficulties that drew attention especially in the Monte Carlo Masters, where Nadal fell to Rublev in a match in which he made quite a few mistakes. "In Rome last year Nadal had been standing for many months, he came to the tournament well and failed the first time he had to compete because things did not go as expected. In Monte Carlo it was more or less the same. He started the game with five double faults in the first two games, something I had never seen in him. He is human and that raised doubts. We try to treat it as an accident and not as an inertia. It has been longer than we expected to see him comfortable and dominating again. He won in Barcelona far from his best version. Those of us who see Rafa every day know that he can play better, the demand is very great with him. There are times when you have to win games anyway, but other times you don't. He has taken a step forward mentally and has the stability to play every day at a good level "
Overcome this crisis Nadal and Moyà face a new challenge within the bubble of Roland Garros. "Neither Rafa nor I have left the hotel yet. We will take a walk but we are very careful, we want to minimize any risk as much as possible. We read, we watch series, we have dinner together in the room … We pass the time and it becomes enjoyable, we get along well ".
"Rafa and I have never talked about Grand Slam 21"
Moyà also revealed how Nadal's last training sessions have been to prepare for the tournament, with notable changes in several of his shots. "We have fine-tuned several things. These weeks we have tried to make the ball weigh him down, so that the opponent cannot be leaning forward and that if the opponent plays a winning shot, he does so with risk. We have also worked on changes with the parallel forehand, open the backhand more towards the cross and continue pending the serve. There is no such thing as perfection in tennis, and even the greats fail and make mistakes. That is why there is always room for improvement "
The Mallorcan wants to downplay the fact that Rafa Nadal will become the tennis player with the most Grand Slam in history if he is proclaimed Roland Garros champion. "Rafa Nadal and I have never talked about Grand Slam 21. He comes to Roland Garros with a lot of pressure. He is in a position to lead the ranking of tennis players with more Grand Slam titles but we try to take away the iron, give him normality, and We do it by not talking about them. I am not interested in the debate of the best in history. We have to wait for Federer, Nadal and Djokovic to finish their careers and then it can be analyzed. Being older than anyone else is important, but this topic bores us a bit. "
The players to watch out for at Roland Garros
Moyà is cautious about Nadal's advancement in the tournament and also points out various names to follow during the tournament. "We try not to look beyond the next game. It seems like a cliché but it's true. In the end, you don't have to be better than 127 players, you have to be better than seven. We arrived in the situation we wanted: winning Rome, healthy and confident. The extra week before Roland Garros has been positive because he has been able to rest and is now more prepared. As for the players I would not take my eyes off at Roland Garros are Djokovic, Tsitsipas and I could add Casper RuudYou have to see how he manages the possibility of going far and, given the picture and the level that he has, he can do it. There are also Zverev, Rublev … and Karatsev, who surprised me quite a bit the other day, left a very good impression on me. "