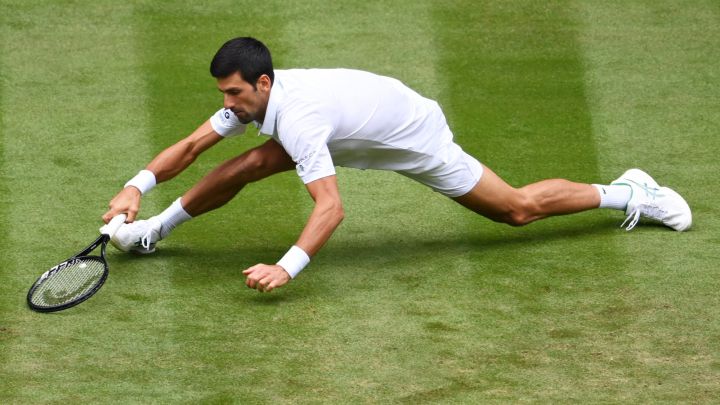 Novak Djokovic managed to seal his pass to the third round of Wimbledon on Wednesday after beating Kevin Anderson in three sets after a great game in which he barely made mistakes.
However, at various points in the game, Anderson demanded Djokovic, who had to resort to almost extreme postures to return the ball at some points. In fact, a photo of Djokovic with both legs stretched to the maximum has gone viral to return a ball.
A photo with which Djokovic himself wanted to joke after the game with this comment: "Spider-Man is back hahaha. Let the memes start." It is not the first time that Djokovic is hunted in this way when returning a ball during a match since, During his semi-final match against Gael Monfils in the 2020 Dubai tournament, the Serb staged a similar coup.
Coco Gauff's incredible punch that Djokovic applauded
Djokovic was not the only one to star in such a coup in recent hours at WImbledon, as hehe young American tennis player Coco Gauff performed a similar one during her first-round match against Francesca Jones.
Gauff ironized about this coup on his social networks along with the image. "By the way, I put that ball on the court." An image that did not go unnoticed by Djokovic, who applauded Gauff's action very similar to his with this message: "I like the way you move Coco ", next to the emoji of a spider and a cobweb. The return of Spiderman Djokovic hopes to lead him to the conquest of a new Wimbledon that would put the tie in the battle for the Grand Slam. "