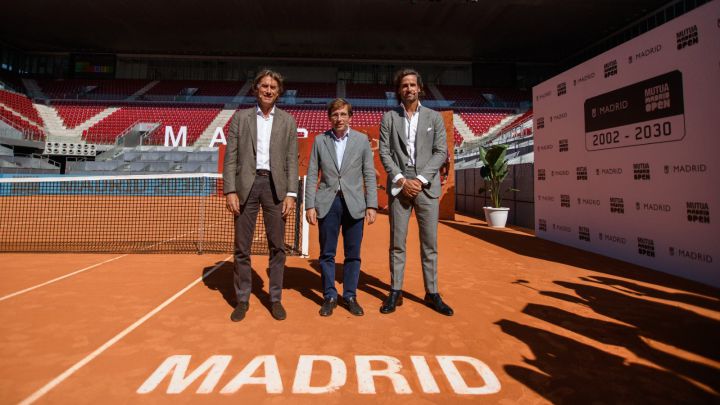 It's official: the Mutua Madrid Open will continue until 2030. The mayor of Madrid, José Luis Martínez-Almeida, and the director of the tournament, Feliciano López, staged the agreement on Friday morning at the Caja Mágica, 'Capital of Tennis' and a benchmark for the 1,000 Masters in Spain.
After stamping the signature that established the agreement by the different authorities, among whom Manolo Santana was present As honorary president and ambassador of the tournament, the Mutua Madrid Open ensures that it will reach 28 editions (in 2020 it suffered its only cancellation due to the COVID-19 pandemic), after it started there in 2002.
"I want to pay my tribute, recognition and gratitude to Manolo Santana. Without him this tournament could not be understood," said Mayor Martínez-Almeida in the first place. And he added: "The agreement reflects the firm commitment that this city has to maintain one of the symbols of sport in Madrid. It is essential for the city to combine high-level sports with grassroots sports, and this great symbiosis takes place in the Caja Mágica. The intention is to continue consolidating the Mutua Madrid Open as one of the five or six best tournaments in the world, after the Grand Slams. "
For his part, Feliciano also dedicated words of gratitude to Santana, in addition to being optimistic about the recovery of Rafa Nadal, who resigned from the US Open and the rest of the season due to his foot injury: "Manolo has been the most important figure for this tournament. I will try not to spoil him and continue his legacy. We hope to see Rafa here in 2022 (year of the 20th anniversary of the tournament). He is still young and has already shown that he has recovered from injuries more complicated than the one he suffers now. That players like him and Federer recover as soon as possible and if all goes well we will have them here next year. "
Finally, and thanks to an economic return generated by the tournament of about 105 million euros per year, the construction of an additional court in the northern area of ​​the Caja Mágica facilities was confirmed. with a capacity of between 8,000 and 10,000 spectators. The best rackets in the world will continue to give a show every May in Madrid, because Mutua will remain for a while.