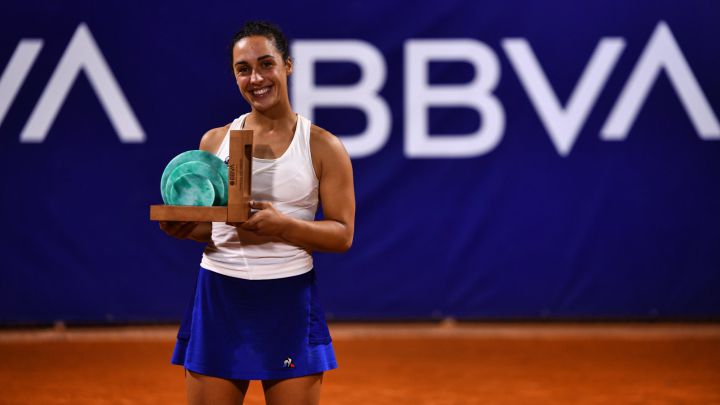 Italian tennis player Martina Trevisan was proclaimed winner of the BBVA International Open in Valencia, ITF 80,000 clay court tournament after coming back in a disputed final to the Hungarian Dalma Galfi by 4-6, 6-4 and 6-0.
The Florentine player showed in Valencia that he is in the best moment of his professional career and after having reached his first final of a WTA tournament this month, in Karlsruhe, he confirmed his exceptional form on the courts of Sporting Tenis Valencia, allowing him to add the tenth ITF title of his record.
Despite the favoritism of the Italian, Galfi jumped onto the court convinced of the game that had taken her to the final without giving up a single set. The Hungarian imposed her game with her right and alternating high balls that puzzled Trevisan in the first games, who was somewhat erratic in her game.
The Magyar tennis player took advantage of the second breaking point she had to gain an advantage in the third game with a break that would be decisive for the luck of the first round.
Although Trevisan managed to enter the game with a deeper game and minimizing his mistakes, Galfi's strength with his serve gave his rival no option until he served to win. The Italian had two break balls to equal five games but did not take advantage of them and the seventh favorite of the tournament took the first set 6-4.
The strength that Galfi had shown with her service in the first set disappeared completely in the second and the match became a succession of breaks from which Martina Trevisan finally benefited, who She broke her rival's serve up to four times to tie the game after winning 6-4 in the second set, the first to be conceded by the Hungarian all week.
The second set was a boost of morale for the tiny transalpine player, who continually cheered on a rival, head down, who accused the blow in excess and could not get out of a spiral of unforced errors that led him to give up a 3-0 in against at the start of the final sleeve.
The fourth game was final for the luck of the set and the final. Both players staged grueling and dramatic exchanges knowing what was at stake. Galfi was able to wipe out two break points but ended up succumbing and giving up his serve for the second time, a final blow to the luck of the final.
In the doubles category took the title of the BBVA International Open of Valencia the couple formed by the Belgian Ysaline Bonaventure and the Georgian Ekaterine Gorgodze against the duet formed by the Spanish Angela Fita and the Russian Oksana Selekhmeteva 6-2, 2-6 and 10-6. The U16 tournament was for the tennis player María García Cid who beat Amelie Rosadoro in the final.