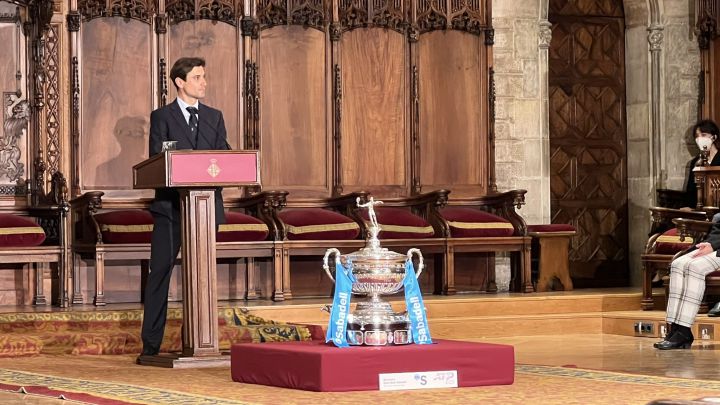 The Barcelona Open Banc Sabadell-69th Conde de Godó Trophy, which will be played from April 16 to 24 at the Real Club de Tenis Barcelona, ​​has started the final countdown. This Wednesday at noon it was presented in the Saló de Cent of the Barcelona City Hall and David Ferrer, director of the tournament, was clear: "There is enthusiasm and desire to see a Godó with full capacity, to which the best in the world come again, with a great poster. We emphasize that we will have three Top-10 (Tsitsipas, Ruud and Hurkacz) and when the tournament starts there may be more because Cameron Norrie can enter this week. But it is that in addition, the best Spanish tennis players will be Bautista, Carreno and Alcaraz, which is the revelation and we want to enjoy it a lot". Precisely, looking to the future, a possible final of the tournament could be Alcaraz-Tsitsipas. This past morning they met at the Miami Masters and fell on the side of the Spanish player 5-7 and 3-6.
The tournament, which will have an investment of two million euros, wants to "be the best ATP500 in the world because we have a special DNA. We sell tradition that is not exempt from modernity", explained the CEO of the Barcelona Open Banc Sabadell, Xavier Pujol. The presentation ceremony was attended by legends such as Manuel Orantes, Alex Corretja, Jordi Arrese and Antonio Muñoz. The mayor of Barcelona, ​​Ada Colau, was also there. She was the one who started the act with a speech in which she congratulated herself on "recover the normality of the tournament after very difficult years. We are recovering the pulse of the city. It has a sporting impact and international projection. In addition, there is a social and environmental commitment because this edition will promote, among other things, the reduction of light pollution". Another novelty of this edition will be the premiere of a U-14 circuit "so that boys and girls can experience a prestigious tournament as protagonists".
Finally, Rafa Nadal's name flew over the Saló de Cent of Barcelona City Hall. An injury may leave him without participating, but for now his image continues to shine on the official website of the tournament. David Ferrer is waiting: "Hopefully he recovers soon. We don't know much, let's see how he evolves." What would Nadal's definitive withdrawal mean? "Rafa is always irreplaceable, but Alcaraz, due to how he has burst in and the great future that awaits him, it will be an illusion to see him live. It creates very good expectations and there is a desire to have it close. This tournament is tennis history and having Rafa is always something unique, but we also have immense players on the ground, like Ruud and all our Spanish tennis players".