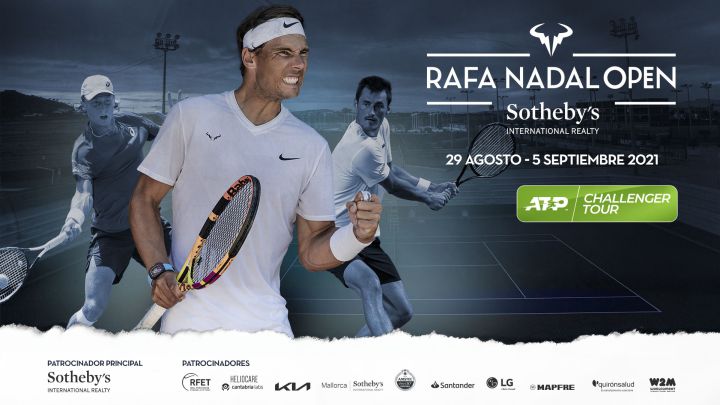 Rafa Nadal has announced that the ATP Challenger Tour circuit tournament will celebrate its third edition at the Rafa Nadal Academy by Movistar late summer. In this way, the Rafa Nadal Open by Sotheby's International Realty will take place from August 29 to September 5 in Manacor.
Through a video, Rafa wanted to highlight the important significance of being able to host an event of these characteristics in Manacor: "Hello everyone, I wanted to tell you that we are very excited that one more year we can celebrate the Rafa Nadal Open by Sotheby's International Realty, the Challenger at the Academy. For us it means a lot to be able to enjoy a week of tennis with a very high level in Manacor. In previous years, world-class players such as Andy Murray, Bernard Tomic and many others who have passed through here in past editions have already come. This year is going to be the third edition and within the restrictions that we still have, we are going to try that the tournament can continue to be a party for all the fans who want to come and visit us. I think that in the previous two years everyone had a great time, since in addition to watching great tennis they have been able to enjoy activities and leisure. We hope that this year we can also make it happen. I think that for tennis players who come to the Academy they know that they are in a fantastic place to play a tournament, since they have everything close by in a very comfortable way in facilities that they appreciate and to which they later want to return. Let's hope the Challenger will be another successful year. At the Academy we continue to bet on growing and organizing events. We will try to continue advancing in that sense. A big hug to all"
In the first edition held in 2018, the Australian tennis player Bernand Tomic premiered the record of a tournament that the Finnish Emil Ruusuvuori won in 2019. Former world number 1 and winner of three Grand Slam titles Andy Murray became one of the great attractions of the last edition from the Rafa Nadal Open by Sotheby's International Realty. His unmistakable style captivated all the almost 10,000 fans who were able to enjoy his talent in Manacor.
As in the two previous editions, tournament tickets will be free and fans will be able to download them in the coming weeks through the website www.rafanadalopen.com. The capacity will be reduced in line with the measures adopted by the health authorities.
In the last edition, more than 7,000 people gathered at the Rafa Nadal Academy by Movistar and this figure is expected to rise in 2021 to see who succeeds Emil Ruusuvouri in the record.