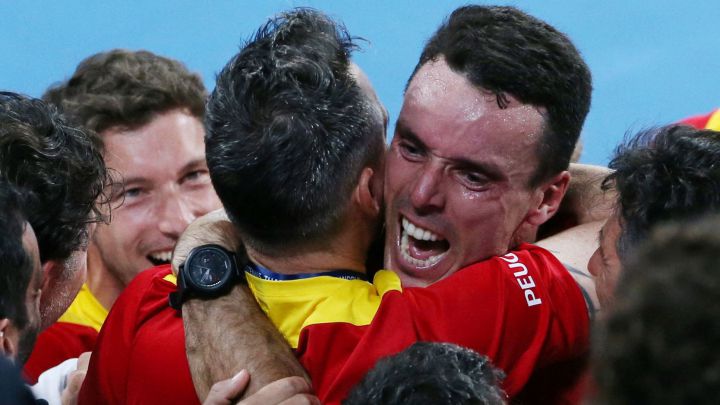 Spain plays this Sunday (07:30, #Vamos) for the second time the final of the ATP Cup, with the aim of finally releasing its record in this young competition in which the National Team has done quite well, runner-up in 2020, after losing to Djokovic's Serbia, and semifinalist in 2021. The rival is Canada. Pablo Carreño will face Shapovalov (4-1 in head-to-head matches so far) in the first match and Roberto Bautista, at Auger-Aliassime (1-2), while the composition of the doubles will depend on the results of those matches.
Both the man from Gijón and the man from Castellón remain undefeated (4-0) in the competition and their performance has been outstanding, especially in the case of the number one in the Navy, who has been able to beat three top-20s (Garín (17th), Ruud (8th) and Hurkacz (9th)). "We have to be focused on ourselves. I think Pablo and I, if we play well and feel good on the pitch, we can win our games, that's our philosophy throughout the week"Explains Bautista. "Everyone on the Spanish team tried to work hard with a preseason plan to improve things. And then it is very good that those crashes come out in which you are emphasizing. I'm really enjoying the level I'm doing on the track this week. If we continue at that level, we will have our options. This is not over. We are going to give it our all ", he warns.
Carreño, for his part, is very happy with his progression, from less to more: "I am feeling very well, because I do not relax at any time. I play serious games to win them as soon as possible. It will be important to continue with this dynamic ". The Asturian highlights the harmony that reigns in the national team: "We have been living that atmosphere of good vibes and camaraderie of team competitions for several years. Our duty is to maintain it and instill it in the youngest who enter. The atmosphere is very good, there is hope and you can see it. Hopefully we can win and take the title ".
And he argues that for him it is the secret of the success of the National Team: "We are fortunate in the good work that Spain has to draw tennis players. We have one of the best players in history, Rafa (Nadal), but behind him, although sometimes he is not given the merit he has, there are players like Roberto (Bautista), like Ramos or myself, young people like Alcaraz, Davidovich, Pedro (Martínez), and doubles players like Marcel (Granollers), another important loss for us. That makes us very competitive in competitions like this, and if Rober plays at the level he is doing, we are very dangerous ".
For their part, Canadian players recognize that Spain is a very tough opponent. Shapovalov talks about Carreño: "Yes, he is a great player. He is super solid. He likes hard courts, command and serves really well. So he's a very complicated guy to deal with. " And Auger-Aliassime from Bautista: "He's always a tough opponent. You know, he's been very consistent throughout his career. His level rarely drops, so I'll have to be ready to do my best. "