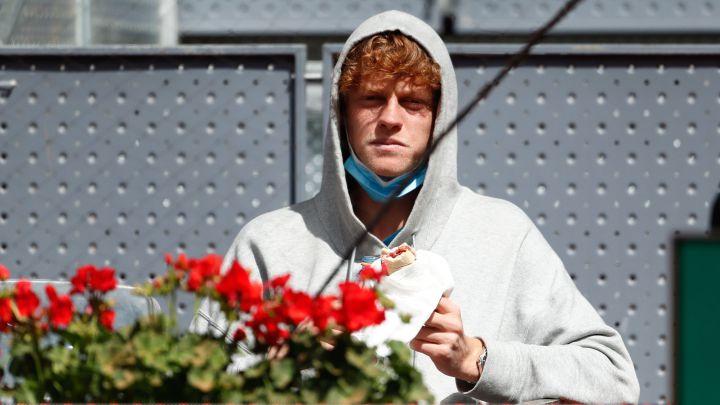 Jannik Sinner (San Cándido, 19 years old), the Italian teenager who amazes the world of tennis, arrives at the Mutua Madrid Open as number 18 in the world, the best position of his short career and he is already one of the contenders for the title. He has won 18 games this year and was champion at the Great Ocean Road Open in Melbourne and a finalist in Miami. I speak with AS before his debut in the tournament, which will be this Tuesday against Guido Pella.
How do you feel and what are your aspirations for your debut in Madrid?
It is the first time that I play here, it is one of the great tournaments on the circuit and there will also be an audience, which is very good for the players because they give us a little more energy in the games. I feel great, I arrived at the beginning of the week and I really want to play here.
Are you more comfortable now on clay?
Every season you play you learn things. Last year I already learned something and this course I will learn something else. So it's been exciting to be on this dirt tour, because I think it's going to help me a lot as a player and improve a lot of things. I try to be focused on each training session and each game to be better, which is my main objective. And we'll see how the tournaments go.
"My parents (cook and waitress) have a lot of respect for work and have given me that mentality"
Where do you get the tranquility with which you play with only 19 years?
I think of my parents. My father is a cook and my mother a waitress in the same restaurant. They have a lot of respect for work and they have instilled that mentality in me, to respect all the people with whom you play or talk. And always try to do my best. That makes you improve and you must have a great team behind you, like the one I have, fortunately. A bit of everything. Trying to be calm on the court I think is what I like the most as a person. Sometimes it can happen that you are a little nervous, it depends, but I am usually quite calm.
If you advanced you could face Nadal, against whom you already played on clay, what did you think of that experience?
It was a great thing to play against him. We had trained a bit together, but a game is totally different, it's another tension. We played a great level of tennis in the first set. It helped me to gain experience. Playing against Rafa at 19 has only good things: trying to be on the court with the right mentality, playing your game and trying at the same time to see what happens on the other side of the court …
What are your main goals?
I would like to play 60 or 70 games and improve every day, that is my main objective, without looking at the ranking. Obviously, in a race there are many things you want to achieve, but that is far and at the end of the day I have even better because in reality I have not won anything yet. I hope that I can play as long as possible and get better and better. Then we'll see what happens.