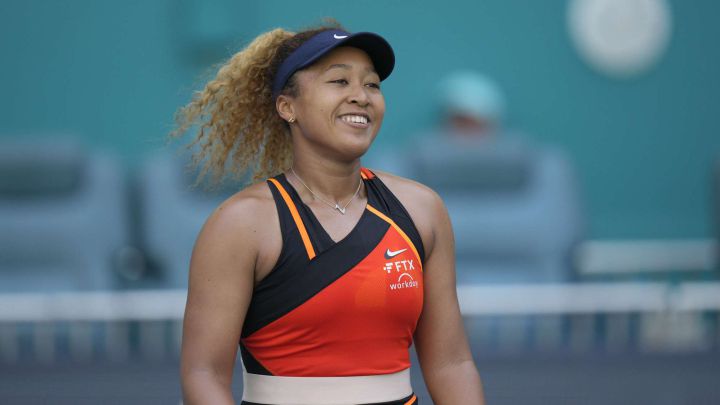 From tears in Indian Wellas to smiles in Miami. Naomi Osaka is still in the United States, but she seems different. She begins to look like the one who, not so long ago, was in the first position of the world ranking. It's early days, but his tennis, and especially his attitude on court, give way to optimism. Rested (the third round meeting against Karolina Muchova was saved due to an injury to the Czech) and with confidence, the Japanese player is already in the quarterfinals of the WTA 1000 after beating Alison Riske 6-3, 6-4, 50th in the ranking, in just over an hour and a half of the match (1h32). She repeats, for the moment, her best position in the tournament, also achieved last season. Then, Maria Sakkari ended her advance; now, Danielle Collins (11th) will try, imposing against Ons Jabeur (10th) in a duel that, far from the expectations generated, was a walk of 66 minutes (6-2 and 6-4).
Despite what the classification says, because Osaka is still 77th in the world, a great match in sight. "It's even fun for me. Last year I also reached the quarterfinals, but after winning in Australia. Now it's different, but I'm in the same position and that's wonderful, so thank you very much to everyone", explained a radiant Naomi after her match, who even joked with the microphone. Last season, Sakkari snapped his incredible 23-match winning streak.; now, he sees himself with the strength to make Collins, enormous by status and moment, a positive turning point.
Number one makes her condition shine
Neither Riske nor Jabeur, to everyone's surprise, were rivals. Osaka saved four balls from break in a first game that lasted almost 10 minutes, but, from there, he enjoyed, immediately breaking the local player. Even in the second round, in which she had to lift an initial 0-2: mental strength, finally. Collins, for his part, making it clear that neck pain no longer exists, he held onto his serve, both the first and second (72.7 and 73.3% of points won with them, respectively), to minimize a whole Top 10. Exhibition on par with that of Iga Swiatek, who continues to polish his new crown as number one in the world. The Pole, with a fast 6-3 and 6-1 (1h16), did not give Coco Gauff an option (14th), far from the expected resistance, to remain undefeated in the WTA 1000 of this season. After Doha and Indian Wells, he also wants Miami.
Results of the WTA 1,000 in Miami.