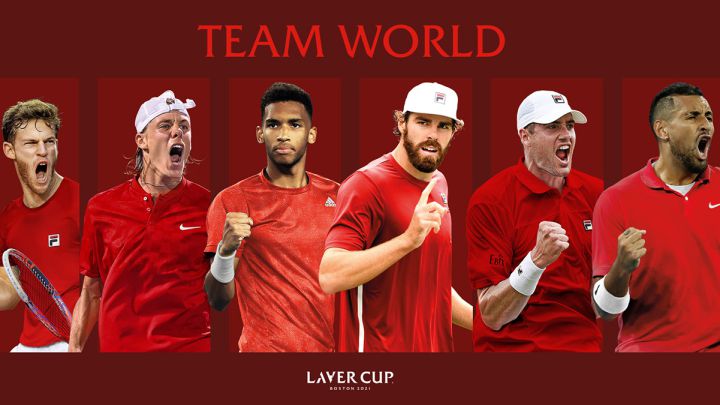 Reilly Opelka, John Isner and Nick Kyrgios represent the rest of the world team in the Laver Cup to be held at the TD Garden in Boston from September 24 to 26. The three tennis players They will join previously confirmed Denis Shapovalov, Felix Auger-Aliassime and Diego Schwartzman to round out the rest of the world team, led by Josh McEnroe.
"Reilly had a great performance last week in Toronto and I'm really impressed with his recent form," McEnroe said of the player, who is making his Laver Cup debut. "He's a young kid and new to the Laver Cup, but like John and Nick have been part of it since its first edition, we have a lot of experience on our side and that will be essential", he claimed.
The American Opelka reached 23rd place in the ATP rankings, the highest of his career, following his impressive victory over Stefanos Tsitsipas at the Toronto Masters 1000. "I am very excited to play the Laver Cup in Boston. Playing in the United States in a stadium like TD Garden, with John McEnroe as our captain, will be an incredible experience," said the American.
Isner and Kyrgios, fixed for McEnroe
John isner he's also in great shape. At the beginning of August he won his 16th ATP Tour title in Atlanta and last week he reached the semifinals in Toronto. The American has participated since 2017 in all editions of the Laver Cup.
"None of us really knew what to expect that first year in Prague, but it was one of the most incredible weeks And now it's a great way to end my season, "Isner said." Sharing a team with players we normally compete against is very different and a lot of fun. We bond a lot as a group, the chemistry is incredible and it's a great environment to be a part of "said the American.
The australian Nick kyrgios will also play his fourth Laver Cup. "The Laver Cup is my favorite week of the year and I love being part of the team. This year it's going to be incredible to play at TD Garden, the home of the Celtics, "said Kyrgios, a Boston Celtics fan.
The fourth edition of the Laver Cup will be held at the TD Garden in Boston, from September 24 to 26. The European team will try to win for the fourth time in a row.