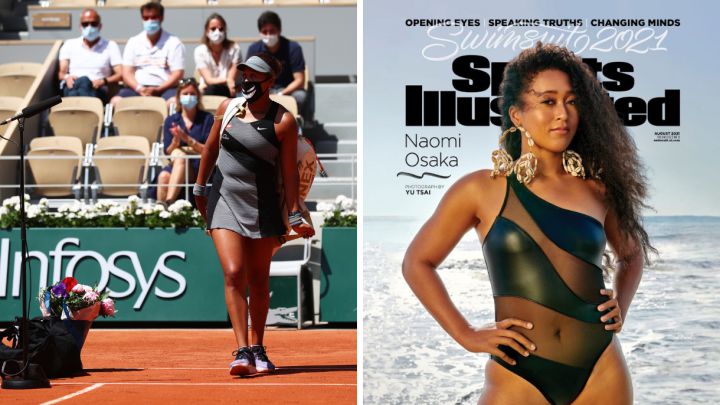 Naomi Osaka is back in the headlines almost two months after her abrupt exit at Roland Garros, when she left the tournament in the first round after being sanctioned for refusing to attend the media at post-match press conferences citing mental health reasons.
However, in recent weeks Osaka has returned to the focus of media attention and not only because of its return to competition at the Tokyo Olympics, where it starts as one of the great favorites for the gold medal, but also as the cover of numerous publications despite the rudeness with the press at Roland Garros.
Osaka has been on the cover of Vogue magazine in Japan and Hong Kong, has promoted Nike summer clothes and a Barbie doll model inspired by her and has also reappeared in public at the ESPY ceremony, where she received the award for the best female athlete, in addition to taking a stand against racism by showing her support for the England footballers who were insulted with racist attacks after the final of the European Championship.
Osaka's change of attitude with the media surprises even more after this Monday the Japanese tennis player published two photos as a model in the swimwear edition of the prestigious American magazine Sports Illustrated, a fact that was accompanied by the following message on their social networks: "The first Haitian and Japanese woman on the cover", alluding to his Haitian origins.
A good part of the reasons for Naomi Osaka's exposure to the media may be motivated by the recent premiere of her documentary on Netflix "Naomi Osaka, playing by her own rules", which can already be seen from this Friday, July 16.
Through her social networks, Osaka herself spoke like this about this documentary and how through it she wants to show a more intimate and personal side of her career. "This is the process of the last two and a half years. In view of what happened recently, I was scared that this would see the light. It is not like a tennis match where you win or lose and where people can say what. you have done well and what not. It is a look through my life of certain periods and I can't fight the feeling of imagining how it will be received. This is my soul and a reflection on who I am. I hope there are pieces that people can see reflected in and others that help people understand why I have made these decisions. If not, nothing happens, I have taken a while, but I realized that I can not please everyone and I do not try. When I go to sleep each night I can only hope to be at peace with myself and I hope it rings true for those who are reading this. I am very excited and nervous that you will see it and enjoy it. I love you, take care of you. "We will see if this documentary helps Naomi Osaka to be closer to the media again in tournaments or if, on the contrary, she will maintain her airtight position before the press. The Tokyo Games will be the first time to see if there has been this change in Naomi Osaka's attitude.