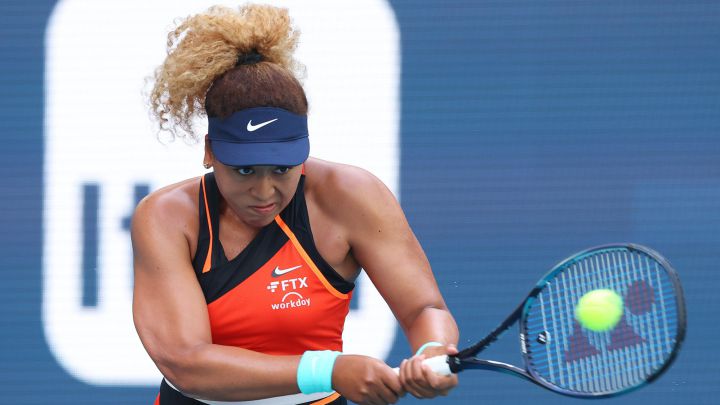 After suffering a long journey through the desert with psychological problems as well as problems with the game and results, Naomi Osaka is back on her feet at the Miami Open. the japanese came from behind to beat Belinda Bencic 4-6, 6-3, 6-4 this Thursdaya rival who had taken the measure to the point of having won it in three of their four clashes and qualify for the final that will be played on Saturday against the Polish Iga Swiatek, who defeated the American Jessica Pegula (6-2 and 7-5) and will try to complete the Sunshine Double, win Indian Wells and Miami in the same year.
Osaka will play the match for a title 406 days after the last one she competed in, the 2021 Australian Open, when she became champion. It is the eleventh of the career of the winner of four Grand Slams. She arrives after a week and a half outstanding. Before her match against the Swiss, she had only lost serve once. Bencic broke it four times, but Osaka had the mental strength that she had lacked on previous occasions to close out a win that means "a lot" for her, as she recognized between tears of joy and applause from the public at the end of the match. "I've somehow managed to turn it around," she explained.
Her losing streak had led the Japanese to fall to the bottom of the top-100. On January 31, after failing in Melbourne, she was 85th in the world. She is now virtually 36th and can climb to 30th if she lifts the trophy. His shyness to face press conferences, and the sensitivity to face insults very painfully from fans both live and on social media were some of the issues that plagued Naomi, who seems refocus on tennis. And of that, she still has a lot.
Bencic deflates
He showed it against a Bencic who fought, but who was deflated by not being able to find the solutions that had allowed him to win in previous duels. He had 11 wins against Japanese opponents, including all three against Osaka. This time it couldn't be because he got stuck after a good first set. He fought to the end, even going 5-2 down when he cut back to 5-4. From there, his reaction did not pass. It was his sixth semifinal of a WTA 1,000 and the finals in the category continue to resist him. Osaka will be the one to play it fourth.
Results of the WTA 1,000 in Miami.