"I don't know, it was a small miracle. He was physically destroyed. But my serve worked well, and for me, every game that I was winning with my serve was a victory." This was how Rafa Nadal described the way in which he managed to beat Denis Shapovalov (6-3, 6-4, 4-6, 3-6 and 6-3 in just over four hours) and qualify for the seventh time for the semifinal of the Australian Open, the 36th Grand Slam to be played from Thursday to Friday (not before 4:30) against Berrettini (The Italian beat the French Monfils 6-4, 6-4, 3-6, 3-6 and 6-2 in 3h49). A heat stroke endangered the triumph of the Balearic, who in just over six months has gone from having serious doubts about whether he could continue competing to being two steps away from winning his 21st major title.
The word miracle also serves to describe the process that has led Nadal to find himself in an unthinkable position when he had to give up playing the US Open because of the chronic injury he has suffered since the beginning of his career in his left foot (Müller-Weiss Syndrome), who was already limping when he lost to Djokovic in the penultimate round of Roland Garros and which led to his resignation from Wimbledon.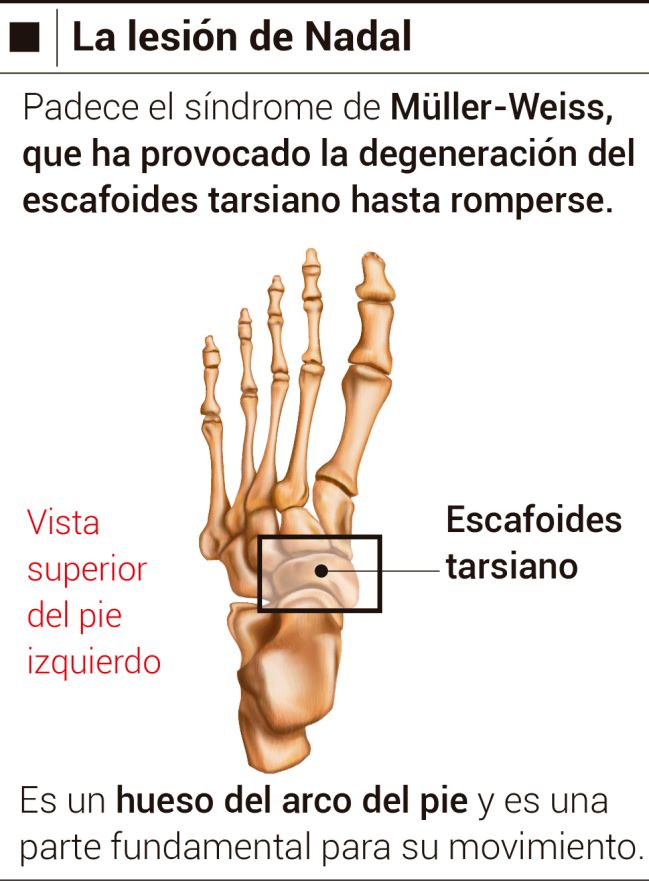 In September he underwent a treatment in Barcelona that included a small surgical intervention. Rafa published a photograph on social networks in which he was seen leaning on crutches and with the leg in plaster. From there, rest, recovery with his physio Rafa Maymó, later physical preparation, and as soon as he could, training on the track, before traveling to Abu Dhabi to participate in an exhibition in which he lost to Murray and Shapovalov, on December 17 and 18. To top it off, there contracted COVID, as did part of his team and family, so his move to Australia was delayed. However, 156 days after playing his last official match, he won the Melbourne ATP 250 in the final against Cressy.
SPLIT SCAPHHOID
"For me, to be able to play at this level against one of the best in the world and to be competitive again is everything. I enjoy every moment, I give my best with the most positive attitude possible and with the right spirit," he said. Nadal after beating Shapovalov. Phrases that summarize how he feels. Because as he revealed a few days ago, "with the scaphoid split in half it is difficult for the injury to be forgotten". "This is a truth like a temple and it will be like this for the rest of my life. Another thing is that it can let me compete with more or less guarantees and that is what we are trying to do". At 35 years and 242 days, some more than Monfils, he was the oldest of the quarterfinalists of the Aussie Open and the fourth-oldest to reach the semi-finals in the Open Era (since 1968), after Rosewall, Federer and Mal Anderson, who did so at 36.
Many players would have retired, but Nadal did "an exercise in survival, both mental and physical resistance" to "pull through a game that seemed almost impossible to win" against Shapovalov. And he is two wins away from taking the lead in the fight for historical supremacy by breaking the tie at 20 Slam titles that he maintains with Federer and Djokovic. An objective that does not take away his sleep. "We share an incredible part of our sport's history and it's a real honor for me to be a part of it. But I don't expect anything. I just keep going. I enjoy playing tennis and I want to keep doing it for as long as possible. We are in the semifinals of the Australian Open, magnificent for me. But my happiness is not going to depend on winning a trophy more than them." explains the man from Manacori, who will take a day of relative rest this Wednesday (he will go out to rally for 15 minutes), before preparing for the assault on the final. A miracle.