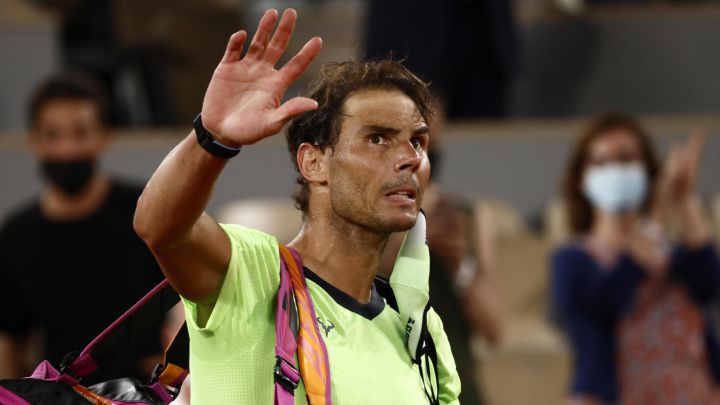 Serious, but not sunk, Rafa Nadal attended the media after falling in the semifinals of Roland Garros against Novak Djokovic in an unforgettable and historic match. "I feel good, I am not a person to celebrate when you win, or great dramas when you lose. I am prepared to accept victory and defeat; Although it is a very important tournament for me, I am aware that you cannot win 15 or 16 times. I will return with the enthusiasm and the necessary work, "said Nadal.
The Spaniard acknowledged that "against one of the best players in history", such as the Serbian, he needed "an extra quality": "Apart from the beginning, the match has been very close. I wasn't able to make a difference, my ball didn't hurt. At the beginning he made mistakes, but then he was very fine, he played long. It is due to him, we must congratulate him ".
Although he also referred to the fact that the track conditions were not ideal: "I know I can play better at this court. I have left everything I had physically and mentally as well. But in the end the conditions were slower at night. It is no excuse, the one who adapts best deserves to win and he has deserved it. But the ball was less alive, and that's a little bit more favorable for him, because my shots no longer have that extra effect, "he said.
"Wimbledon? Now I can't decide."
What he did notice was tired, to the point of not wanting to think about Wimbledon, whose participation he left in the air: "It is different from when I was 25, 26 or 27 years old, now I am 35, I have to see how I recover in every way and then the decision will be made whether I play Wimbledon or not. They are things that are seen with the days and now I am not qualified to make that decision. I have neither the physicality nor the mental clarity to be able to think about it two weeks from now.
And he made it clear that his body and head need a break: "I need a quiet time and vacation days, to breathe a little, to enjoy the good weather of Mallorca …".