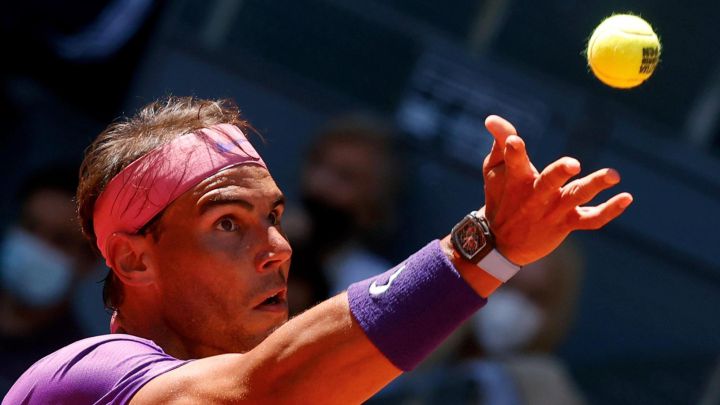 Serious and visibly angry about the loss to Alexander Zverev in the quarterfinals of the Mutua Madrid Open, Rafa Nadal He appeared in the press room to telematically attend the accredited media and give his impressions of the game. He did it as soon as the duel ended.
The match: "I have negative feelings because it is an important week for me, although it is true that these are the most difficult conditions for me on gravel. But I was very excited. I've been taking steps forward, but when you go up a ladder, you can take a step back, and that's what happened. "
The key: "During the week I had done well during training and games. Today I had started the same, but at the moment of truth, in the moments when I had to define the set, and it would have completely changed the perspective of the game, I did everything wrong. When I served for 5-2 I made several mistakes and at 4-3 I had a break ball and I missed a parallel backhand. Conditions were favorable for him and I missed it. I'm going to keep working. so that I will not miss it in the next few days ".
Level: "It is not that I have not reached the minimum level, but I play against a tennis that with the serve puts you in a lot of trouble, each serve goes above 220, I have to go six meters back and I keep hitting the ball above the shoulder. I have to give the maximum level. Here the feeling of uncontrol is much greater than in Monte Carlo, when I lost against Rublev.
Madrid: "It has been a week with positive things in training and I am leaving Madrid with good feelings in general and ugly for having lost against a good player. The negative is that being better than him in the first set, I lost it 6-4 Something strange in me, that I usually win sets being inferior to the rival. Due to a few unjustifiable mistakes in the moments that they did not have to be made, I found myself with a set down and knowing that an ordeal awaited me and he had made an advance important in the game. It's a missed opportunity and I'm going to work to give myself more. "
Beaten earth: "The balance of the clay tour is now simple: fourth, champion and fourth, and now comes Rome. The rest are inventions and I am very given to making them. The objective before Roland Garros is to go to Rome and win ".