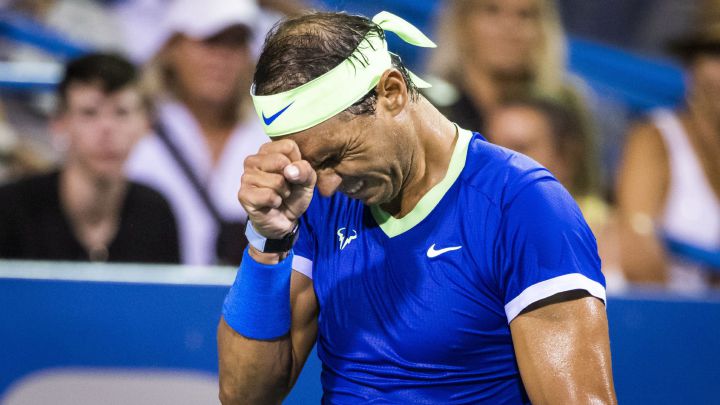 The return to normality of the ATP ranking after the end of the new system established to minimize losses due to the alteration of the calendar due to the pandemic leaves as one of its first consequences the departure of Rafa Nadal from the Top-3 of a classification in which Novak Djokovic extends his leadership.
The Serbian remains one more week, and they are already 333, leading the ATP classification with 12,113 points. The Serbian extends his lead with Daniil Medvedev to almost 2,500 points, that loses the 600 points achieved as a finalist in the 1000 Masters of Canada in 2019 and that remains in second position with 9,643 points.
Something similar to Medvedev happens to him to Rafa Nadal, who this week falls from third to fourth position with 7,315 points after giving up the 1,000 he achieved as champion of the Canadian Masters 1,000 in 2019. The fall of Nadal is taken advantage of by the Greek Stefanos Tsitsipas, who is third this week with 8,115 points.
Nadal's departure from the Top-3 is the only big news of the week in the Top-10 of the ATP rankings, where Alexander Zverev (5th), Dominic Thiem (6th), Andrey Rublev (7th), Matteo Berrettini (8th), Roger Federer (9th) and Denis Shapovalov (10th) remain, and that the Spaniard Pablo Carreño caresses, eleventh with 3,260 points, 365 from the limit set by Shapovalov.
Along with Nadal and Carreño, nine other Spanish players remain this week in the Top-100 of the ATP ranking: Roberto Bautista (18th), Alejandro Davidovich (34th), Albert Ramos (48th), Carlos Alcaraz (54th), Jaume Munar (67th), Pablo Andújar (74th), Pedro Martínez (76th), Roberto Carballés (95th) and Feliciano López (99º).
ATP Rankings as of August 9, 2021
1. Novak Djokovic (SRB) 12,113
2. Daniil Medvedev (RUS) 9,643
3. Stefanos Tsitsipas (GRE) 8.115
4. Rafa Nadal (ESP) 7,315
5. Alexander Zverev (ALE) 7,183
6. Dominic Thiem (AUT) 6,915
7. Andrey Rublev (RUS) 6.005
8. Matteo Berrettini (ITA) 5,533
9. Roger Federer (SUI) 4,215
10. Denis Shapovalov (CAN) 3,625
———-
11. Pablo Carreño (ESP) 3,260
15. Jannik Sinner (ITA) 2,745
18. Roberto Bautista (ESP) 2,585
34. Alejandro Davidovich (ESP) 1,723
48. Albert Ramos (ESP) 1,378
54. Carlos Alcaraz (ESP) 1,196
67. Jaume Munar (ESP) 1,022
74. Pablo Andújar (ESP) 970
76. Pedro Martínez (ESP) 951
95. Roberto Carballés (ESP) 819
99. Feliciano López (ESP) 810