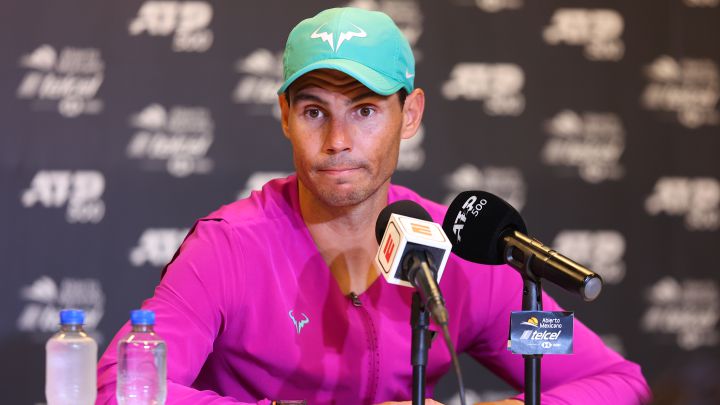 Happy for his victory against Stefan Kozlov in the second round of the ATP 500 in Acapulco, Rafa Nadal attended a press conference in which he spoke more about what happened with Alexander Zverev, ejected from the tournament for repeatedly hitting the umpire's chair with his racket in a doubles match than in the match he had just played. The truth is that his reflections are not wasted and he made them despite the inconvenience of a leak that he took with great humor.

Best start to the season: "I am able to play and, for the moment, compete well, and for me that is the most important thing. After many difficult months, I am feeling better and liberated. In that sense, for me beyond victories, the fundamental thing is to be playing, although it is true that things have started in the best possible way. I do what I like and I have options, before it was totally impossible".
Meditation and body: "I'm not that mystical, I don't have that much feeling nor am I so spiritual in that sense. I'm a simpler person, I'm not used to thinking so much. Obviously, athletes know our body very well and unfortunately we have had many physical problems. You know when he responds or not."
Numbers: "I have never been very aware of them, but to be well and prepare to compete, if I play well they come out and if not, they don't".
Zverev controversy: "It was an unfortunate act and I feel sorry for him, because we have a good relationship. In the end I think he deserves the sanction, because you can't act that way and hopefully this will serve as a lesson for him and for other young people who sometimes they lose their nerve on the court. It is logical that the organization that governs our sport makes itself respected and respects the chair umpires and tennis in general. We have to stop some kind of attitudes that have become fashionable. I have read your communicated and I think it is a positive step forward that he acknowledges it, that he apologizes and that he thinks that it will help him not to do them again. I wish him the best and that we get back on the slopes soon. Also that it helps others who have sometime have similar attitudes, so that they are aware that these behaviors cannot be had".
Racquet abuse: "I understand the frustration and that a racket breaks in an outburst. I do not criticize it more than necessary, although I do not like it because I have been educated in another way. But disproportionately disrespecting chair umpires is another world and I think the organization has to become strong. The image that Alexander gave traveled the world. With social networks, everything runs like wildfire and there are millions of children who see it. We must be an example for them. What Sascha has done is a exception and as everyone makes mistakes, I think you have to forgive him without a doubt and I'm sure he'll learn. But we're athletes in a very popular game and we have to be careful, having said that, I understand that there is frustration, but there have to be limits ".
Rules: "I am nobody to give an opinion. The ATP has to take the measures it deems appropriate depending on what they want this sport to be and what kind of example they want to give to children. It depends on which ones they take, these things will be repeated or not. As a partner , I wish Zverev the best, and that the sanction is not very serious, but as an athlete and follower of the sport these things cannot be repeated, we must maintain positive values ​​so that he is positioned where he should be. We have to make ourselves respected".