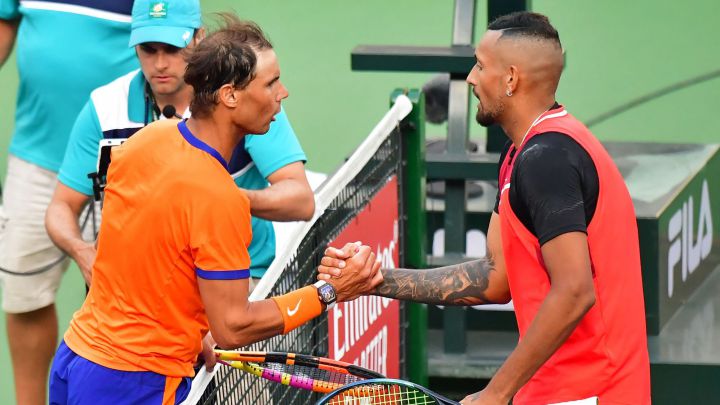 While following Carlos Alcaraz's match against Cameron Norrie on a television screen, Rafa Nadal attended the press after beating Nick Kyrgios in three sets and getting into the Indian Wells semifinals.
Break points against in the third set: "Well, after a match of almost three hours, we can't just talk about two points, no, because I don't think it's right to say that. I've played a lot of important points during the match. Those two points would have been important. But we can talk a lot about different moments that change the dynamic of the match. I think it was good. I'm happy to win, of course. To be in the semi-finals is great news for me again. Also happy for that third set, because it wasn't easy after the end of the game. second, which was terrible for me. But I put up with it emotionally and mentally, I think I was ready to keep fighting. Very happy with the win and of course happy with the level as a whole."
Kyrgios' behavior and the incident with the ball boy: "I didn't see that. I'm sorry. I can't really have a clear opinion because, as you can imagine, I was on my side and I, I'm sorry, I didn't get to see that sequence what happened. But really, I'm not in the mood to talk." a lot about this kind of thing, because we talked about it before the tournament. You already know my opinion on this kind of thing. But in the end, there is an organization that is making decisions and that's it. I'm a colleague of all these players, and I already I said, I can't repeat what I said before the start of the tournament, but it's true. I have a good relationship with everyone, and even with Nick, let no one misunderstand me and think that we hate each other, because what was said in the past is not true, not at all. I don't hate him at all. And in a way I like him as a character. But of course, when you cross some lines, then it becomes different. And the problem is that, in my opinion, it's always the same. When you allow players to do things, then you don't know where the line is, and it's something complicated. But probably because these situations are happening more and more frequently, the ATP should review things and make decisions. Not about today's game. I didn't see what happened at the end, so I can't comment. I think Nick had a great attitude throughout the match in terms of fighting spirit and of course he has his personality, his character. Sometimes he does things that I personally, from my personal understanding, don't like, but I respect him for his different character, for his point of view and the different types of education and sometimes, and I don't mean that in a negative way not at all, we just have different kinds of views. But the most important part that we come here for is trying to play tennis and trying to do it in the best possible way. I think he did. He fought to the end. He played a great level of tennis. And that's the Nick Kyrgios that I probably want to see and people like to see. Because that's good for tennis. I hope it wasn't anything bad that happened because I wish him the best. But if it's bad, I mean, the ATP has to make decisions to prevent that and stop it because sometimes, even if it's for something very unfortunate, then something negative will happen."
Nerves on the track: "Everybody gets nervous and if you don't get nervous it's because, as I said before the tournament, it's because you're lying or you don't care much, at all about the sport. Because when you're doing something about it, when you're doing something that makes you It doesn't matter, it's normal for you to be nervous because you need this kind of nerve to play well, in my opinion, because that helps. Everybody gets nervous, I think."
Sensations and pressure: "For me it was just another match. Honestly, another quarterfinal match of a Masters 1,000 in a great stadium, one of the best stadiums in the world, in front of a great public, with a great opponent in front. For me it was like this , another hard-fought match that I needed to play, play well to get through. I enjoy these kinds of matches. I enjoy the challenges. And today I was able to keep going and that makes me happy and proud."
Alcaraz: "It was a breaking point, yes. (Smiling). I'm sorry about that," he said while following Carlos Alcaraz's match against Norrie. "He's never asked me any questions. He's got a great team around him. I think he's unstoppable career-wise. He's got all the ingredients. He's got the passion. He's humble enough to work hard. He's a good guy. He reminds me of many things of mine from when I was a 17 or 18-year-old boy. I think he has the passion. He has the talent and the physical component that is great. And I am super happy. He will be a great rival for now and for the next few months, without a doubt. But thinking and being selfish, it's great, honestly, to have such a star from my country, because we, for tennis lovers, are going to continue to enjoy an incredible player who will fight for the most important titles for the next ones, I don't know. how many years, a lot of years. That's my feeling, from my point of view. That's fantastic for tennis lovers and he's a compatriot and a great guy. So I like him. I wish him all the best. Probably not tomorrow when he plays against me, but in general (laughs) ".
Rest with 5-4 in the first set: "I was even luckier at 15-30, 30-15 I think, because I saved a backhand very close, close to the two pots. At 30-all I decided to go to the T and put the racket there, then I played a good point and he made a mistake. That gives him a good dynamic and winning matches in a row. When things like this happen, I feel lucky, because the chances of winning that set were, let's say, 10 percent, maybe less. I don't know. . But it happened. Yeah. I played some good points. It seemed like I kind of had it under control to win in the second and I played a lousy game at 6-5. That's what happens when you play a guy like Nick and he's able to serve so well."
Master the environment: "I always have a very basic point of view and it's, 'Do the things that help you play better or win more. You can be sad, you can be very upset, but if it helps you play better or win more, do it. But It's not my case. So when I'm upset or I've lost focus, I say, 'I'm not this kind of person.' the tennis court, in my normal life too".