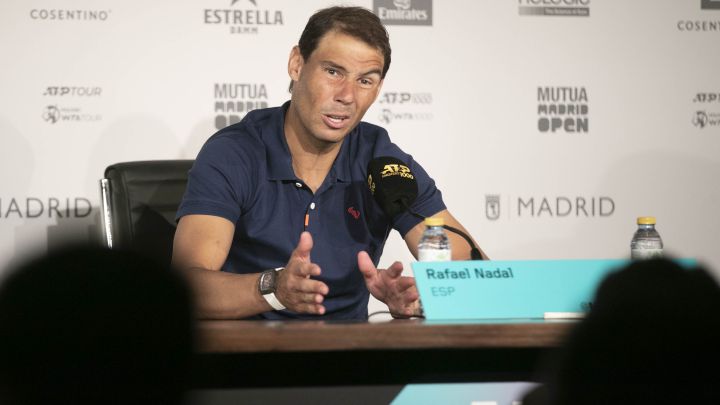 Rafa Nadal addressed the media during the 'Media Day' of the Mutua Madrid Open, whose men's tournament starts today. The Balearic, who will not debut until Wednesday morning, He returns to competition after six weeks sidelined by a rib injury. Hardly having been able to train, Nadal does not arrive in Madrid with high expectations, and prioritizes continuing to recover sensations to arrive in the best possible shape at Roland Garros.
How are you: "I'm fine, I'm recovered from the injury, I feel good. At the level of tennis and preparation it's another story. This injury causes pain, it's disabling especially in the first few weeks, even with difficulty sleeping. From then on, I was able to go to the gym a bit. It's not a major injury, it's been a while, what happens is that it's an injury that didn't allow me to train. When I breathed, it hurt. It's been a period of invalidation in that sense, it's been six weeks in which I started training two years ago. But well, looking forward to being here and I have days left. I've improved since the day I arrived, but still with ups and downs. It's going to be a difficult week, it's reality. I want to take things calmly, accepting that you are going to be far from perfect, and from there, fight".
It arrived in Australia with problems: "It's a little different, as far as it goes. He arrived in Australia almost without playing, the injury to his foot at the level of physical work and on the court was little, but he had trained, he had been playing the ball for a long time. What happened in Australia It was almost a miracle. We are in a different situation, the rib injury did not allow me to do practically any preparation. I am taking these days a bit as a pre-season, it is a tournament that suits me. If a victory could come, fantastic. But you have to have patience and humility on a day-to-day basis."
Training: "I couldn't hit anything. I started serving a day before arriving in Madrid, before that I hadn't served. It was totally invalidating."
The start of the season helps: "In that sense, no. One gets tired of being in trouble, you have to put things in perspective and I always do. Very happy with how the year had started, but you also have to see the negative side. After five months without playing, with all that it had cost to reach the level I reached, winning three tournaments and without losing a game, because breaking my rib is already what it takes. But it is what it is, it has been an important break, very bad for the moment of the season, we are not going to fool ourselves. From then on, I am not much to lament or complain, in life one can be complaining all day, but in the end that does not get you anywhere. The only thing left to do is look forward, look at the next goals with enthusiasm and determination. From experience, which unfortunately I have, the breaks in the middle of the season are very bad, they are better at the end of the season, so it costs a little more It is a challenge for me and I hope to be ready to accept the difficulty that will to carry that. I have a few weeks to get in shape, I have never said it like that because all tournaments are relevant to me, but I have three weeks left for Paris and unfortunately I have to take it that way."
Bad behavior: "I suppose that, due to my way of playing, you have my opinion clear, so I am not going to tell it. I suppose that times change, personalities too, but there are certain limits that cannot be exceeded. There is risk depending on what, for example , the health of ball boys or line judges. In that sense, I think the sanctions have been light in these months of the year, seeing everything that has happened. A few weeks ago, a letter was sent to the players saying that, From now on, extreme behaviors are going to be punished in a more drastic way, I think it is an appropriate movement. I understand that sometimes there is frustration and that a racket can break, but there are certain limits that should not be exceeded. Now, I suppose that the players are going to think about it more".