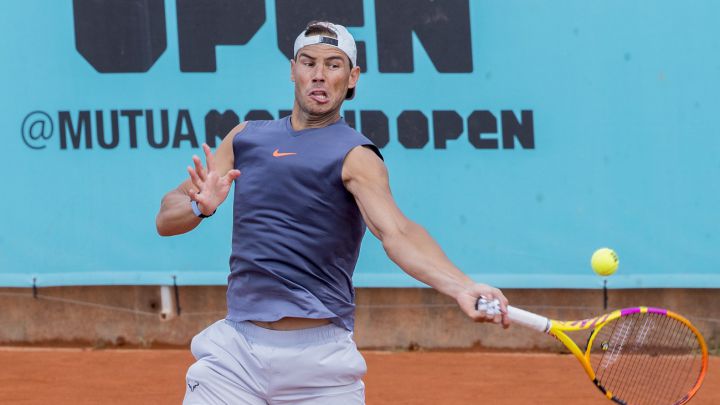 Rafa Nadal is already preparing on the clay of the Caja Mágica to face what will be his 18th appearance (the same as Feliciano López and more than any other player) in the main draw of the Mutua Madrid Open. The Balearic did his first training session this Friday under the watchful eye of his coach, Carlos Moyá, and together with his countryman Jaume Munar, looking for sensations for next week, when he will start the race to add a sixth title in the Spanish capital ( already won in 2005, 2010, 2013, 2014 and 2017).
It was a two-hour session on track 13, followed by another in the afternoon. At some point he put his hand on his shoulder with a gesture of pain and had to be attended to, but he continued to play normally. Nadal landed on Thursday in a city he considers "unique." "I have always had a special feeling playing in Madrid and I think this year will be greater than ever. Even if there will only be 40% capacity, it will be incredible compared to what we have experienced lately. Hopefully they are willing to cheer us on a lot, "he said.
"For my part, I hope to be ready to compete well and to be able to spend many days in front of our fans," added the Manacorense., which has another two double sessions scheduled for Saturday and Sunday. "I'm going to prepare as best as possible, as always," he says. His first rival will come out of the draw for the box, which will take place this Friday.