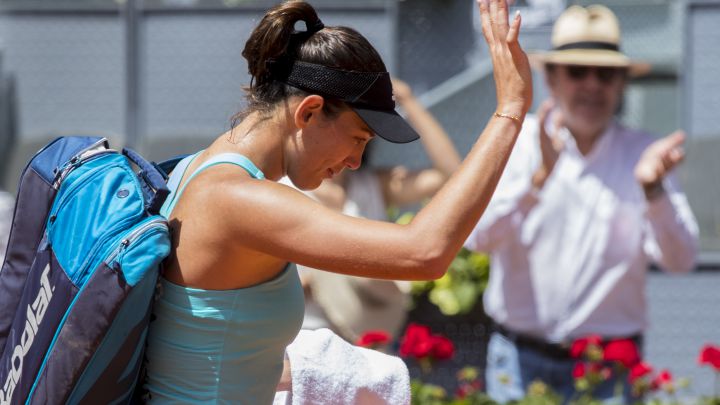 Madrid is still a square that "costs" Garbiñe Muguruza, as she recognized in a press conference after her tough defeat against the Ukrainian Kalinina. In eight appearances, Garbiñe's best record at the Mutua Madrid Open is the round of 16. In 2022 she will not improve that data, and it is that his elimination in the second round is a serious blow for the winner of two Grand Slams.
Missed opportunities: "Physically, I have had discomfort in my right calf, and as a precaution they have placed a bandage on me. It has been a strange match. I am surprised with her game, she has played very well. I did not know her. Those break balls that I have had, the game has gone in points".
Few matches on land: "I think it has had an influence, physically I have felt a little diminished, even though I had a rest day. Because of the training sessions, because of the previous game, also because of the tension that makes you feel a little stiff. Today I have noticed a little that I have lacked spark in some moments and that she does come from playing other games".
Handicap to prepare Roland Garros: "I don't think so, now I'm going to talk to my team, I was checking with them how my twin was doing. I'll do some tests just in case so I don't go there with pain or something serious happen to me. Unfortunately, I have a few days until Rome to see How does the twin react?
Expectation generated: "It is clear that I try to put on a decent face, it is a sad game that has escaped me in a way… I don't know exactly what it is that I have lacked, some point, some spark, playing more games… A lot People expect a lot of things from me, especially in this tournament, which is the event in which I haven't quite caught on. The expectation is there, sometimes I fulfill them and other times I don't. Yes, it is true that this tournament is difficult for me. Every time I come I hope to see if this is the year in which I can finally calm down, control my nerves and emotions. When I was on the court I was very tense, I couldn't play my tennis like in other tournaments. I think it's a mixture of so much expectation to make it come true, not disappoint the public. That's playing tricks on me. This year I've tried to be more animated with the public, but the reality is that it generates tension and I still haven't been able to get my tennis out in this tournament".
Things don't happen in 2022: "There is a bit of everything. The results come and go, last year I had my best season in terms of results, stability in almost all tournaments, winning many trophies. This year has been different, it has started a bit haphazardly, but That's not why I think it's a bad year. At the moment, I have many more tournaments ahead of me to try to get the feeling of last year. Every season is a new world".