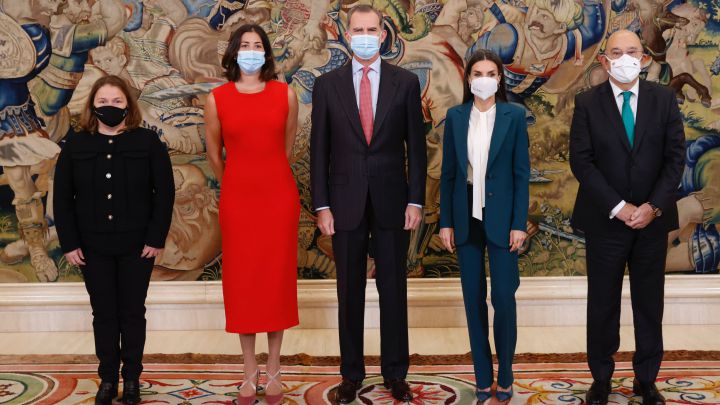 Garbiñe Muguruza closed the season with the victory in the WTA Finals played in Guadalajara (Mexico), a trophy that crowned her as "Teacher" of women's tennis. An achievement that was to fall at the hands of a Spanish player for the first time in history.
The 28-year-old player has been able to enjoy it. He has disconnected from the intensity caused by the circuit and now he plans the start of a new season full of challenges. Garbiñe dreams big and his goal is to close the circle of Grand Slam titles.
The Spanish tennis player attended the EFE Agency, to which she told her plans and feelings in an interview at the headquarters of the insurance company Cásica in Madrid.
– Have you had time to rest and disconnect after winning the WTA Finals title in Guadalajara?
– Fortunately, it has given me time to rest because the season is over and the good thing about this tournament, about the WTA Finals, is that when you win you can celebrate because there is no tournament afterwards. It is the last tournament of the year. Normally when you do well in one tournament you have to go to the next one and you never have time to rest and make a nice dinner and celebrate. And this time I have had the opportunity.
– When do you resume activity?
– The truth is that I have never left her. The life of an athlete is that, that you can rest but you cannot relax a lot and like the body, physical activity. But yes, in a few days I will return to training to do a good preparation in the month of December and start in January
– You already have the season planned
– Yes, my preparation begins now in December, which is very strong, especially physically and then I already start the Australian tour in January.
– How has the year come out after winning the WTA finals? Has the victory in Guadalajara been a boost of spirit, of energy?
– The truth is that 2020 was already quite complicated and 2021 despite the protocols, the bubbles, the lack of public and everything we have been able to play and that has compensated for what we missed at the end and the end of the season has been revitalizing because it was in Latin America, it was in the Teachers' Cup that last year it was not possible to play. A very special triumph .. everything in general. A complicated year that ended very well.
– After a year like this and before starting again, how do you face the return? Are you lazy about everything that lies ahead or does it stimulate you?
– It motivates me. The season of a tennis player is very long and neither does one look at it as if it were a mountain. He goes little by little, it is month by month, he goes on tours. One is well organized so that it does not become too heavy because it is true that it is extensive, but what goes, quite the opposite. More motivated than ever to go back to racing, to continue with this inertia that I have, which is very good, which is giving me a lot of results.
– Among your challenges now is to close the circle of the Grand Slam? He has the Australian Open and the United States Open.
– It's always something I've wanted. Especially when I played the final in Australia last year, which is a Grand Slam tournament that I don't have … yes, I would love to close the Slam circle … any tennis player, right? But it is a goal to have and to stay on top of tennis, competing for trophies. It is always my goal.
– Do challenges put pressure on you? How do you handle this situation?
– No. I now manage it better. Before, in fact, I never wanted to share my goals much just in case … now I am more open to honestly saying that I would like to win this or another tournament, complete this, that … I think it's great. They are the goals that everyone dreams of, I love them and I put pressure on myself but I think that's good. As long as you dream big, it is good that you feel pressure.
– Do you feel that you have matured? What differences are there now with the player who started?
– They have spent quite a few years in competition playing on the WTA circuit. In the end that adds up. An athlete's career is short but every year it's like you learn a lot. Now I consider myself much more educated and mature, although it is not a word that I love to use when managing all kinds of situations, I am in a much better position.
– A hard year has passed, full of controls, bubbles, protocols. Do you feel any kind of uncertainty because it could return to a similar situation?
– Not for now. It's just getting back to normal. Last year there was more uncertainty but ironically despite the fact that it has been more or less complicated we have handled it well. There have been tough weeks, with an accumulation of everything, but I think next year looks good with a calmer, clearer circuit, without so much uncertainty, which is the worst thing to do.
– Now in the middle of rest, do you follow a sporting event? For example, the Davis Cup?
– I've been following him. I always follow my teammates and tennis partners. I try to disconnect as well. Watching series and watching movies and everything, but I always follow that.
– How do you see the theme of Peng Shuai and everything that is happening? Do you discuss it among yourselves?
– It's a miserable situation. I just support what our President Steve Simon has said about it. I hope you are good. That you are in a safe place and that we know sooner about that situation that we are all a bit waiting.
The Kings host Muguruza after winning the WTA Finals
The kings have received this Tuesday at the Palacio de la Zarzuela tennis player Garbiñe Muguruza after being proclaimed champion in the WTA teachers' tournament on the 17th in Guadalajara (Mexico), the first Spanish to achieve it.
Don Felipe and Mrs. Letizia greeted Muguruza in the Magnolias Room, where they posed with her before having a brief encounter.
With this audience, the kings wanted to show their appreciation for the triumph of the Spanish tennis player in the WTA Finals, the old female Masters, which joins that of Roland Garros, in 2016, and that of Wimbledon, in 2017.
Following her victory against Estonian Annet Kontaveit, Muguruza, 28, will end the year as third in the world ranking of tennis players, headed by Australian Ashleigh Barty.
The Spanish-Venezuelan tennis player was accompanied to the audience with the king the president of the Royal Spanish Tennis Federation, Miguel Díaz, and his assistant, Cecilia Casla.