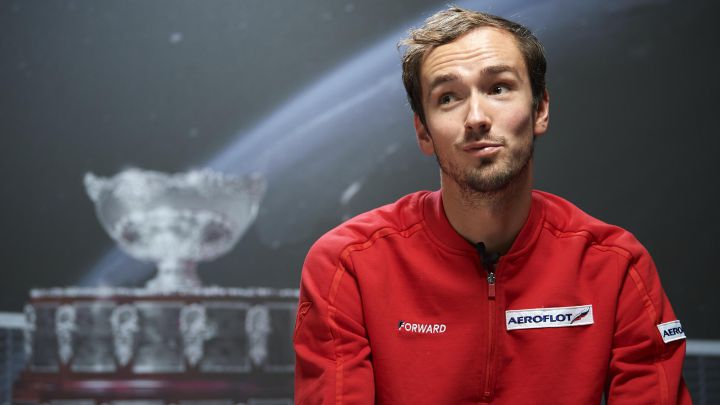 The Russian Tennis Federation team, rival of Spain along with Ecuador in Group A and great favorite to win the title of champion of the Davis Cup Finals 2021 and current winner of the ATP Cup, offered this Thursday a press conference at the Palacio de Cristal de la Casa de Campo, next to the Madrid Arena, in which its components escaped from that consideration that is made because attends the appointment with the number two in the world, Danill Medvedev, and the number five, Andrey Rublev, in a set completed by other top players such as Aslan Karatsev (18th) and Karen Khachanov (29th), a situation that none of the remaining 17 teams competing in the country tournament that has already started can boast about.
"What Shamil (Tarpischev, the captain) said is that the season was long, so we can't know, to be honest, in what form everyone is coming right now. Many teams came early to prepare well, so for him, there are no favorites in this tournament in the early rounds. So managing the pressure is going to be the most important thing, "said Medvedev, who admits that he arrives at the appointment" tired. " "I'm not going to lie, but every tournament I play I try to do my best. I had only one training session., so I still don't feel the conditions too much and I can't talk too much about how my tennis is. But in general, I was good in Paris and Turin, and here I come with a lot of desire to try to give the best of myself to the team, trying to win the points, because that is the most important thing. That will be my goal, if I play, of course, we'll see ", he expressed with respect to his teammates, proud of the level of Russian tennis in 2021. "We spoke yesterday at the team dinner that this year was a success for Russian tennis and we had good results in the Olympic Games. The girls won the Federation Cup and now here we are, we will also try our best. I think it is one of the best years again for Russian tennis to shine again. That's great, "Khachanov explained.
Rublev agrees with his colleagues that Russia has "a great team", and assures that he will try to "do his best." The player who coaches Fernando Vicente says he feels "very happy for the girls" from his country who won the Billie Jean King Cup. "They did an incredible job. We are in contact," he said.