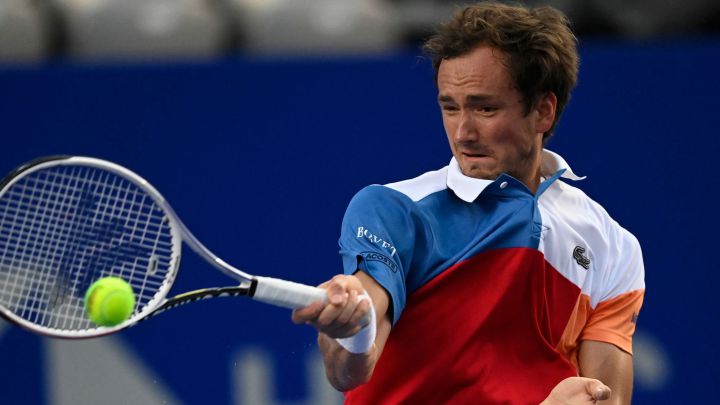 A rather discreet performance, especially with the serve (nine double faults), was enough for Daniil Medvedev to overcome Benoit Paire on his debut in Acapulco (Mexico) on Tuesdaya player as great as irregular, who put the Russian in trouble at times, but did not know how or could not finish him off before losing by 6-3 and 6-4 in 1h41. Medvedev thus endured the pulse he maintains for the world number one in the distance with Novak Djokovic, who also went to the second round in Dubai.
Medvedev has a good chance of taking the throne from the Serb. He will get it this week if he wins the Mexican Openbut also if he reaches the final and Djokovic does not win the Duty Free Tennis Championships, if he gets to the semifinals and the Balkan does not reach the final and even, as things stand now, if Nole does not continue in competition for least until the penultimate round.
The Muscovite did not need to practice his best tennis against a Paire who did his thing, although this time he played quite seriously. The first set escaped him despite disturbing Medvedev in almost all the returns, and in the second set he lost the advantage that had given him his only break and gave up with a partial against 3-0after breaking his shirt in the gypsy style after conceding the counter-break of the first seed of the tournament, which will face this Wednesday (1:00, Sports by M+) in the round of 16 Spaniard Pablo Andújar, who beat the local Álex Hernández (6-0 and 6-1 in 61 minutes).
Berrettini retires
Matteo Berrettini, Rafa Nadal's potential rival in the quarterfinals, had to leave after winning the first set 6-4, when he fell 5-1 in the second against the American Tommy Paul. The Italian, fifth favourite, pointed to his stomach when he informed the chair umpire of his abandonment. The Australian John Millman was also unable to finish his match against Marcos Giron when he lost 7-6 (3) and 2-0 due to an absurd ball hit in the right eye that he gave himself while trying to pick up a ball with his racket. The American will be Pablo Carreño's next rival (1:00) Meanwhile, on court 1, Feliciano López (seven double faults), who had been invited by the organizers, saw how the Japanese Yoshihito Nishioka traced him back to win for 2-6, 6-0 and 6-4 in just over two hours.