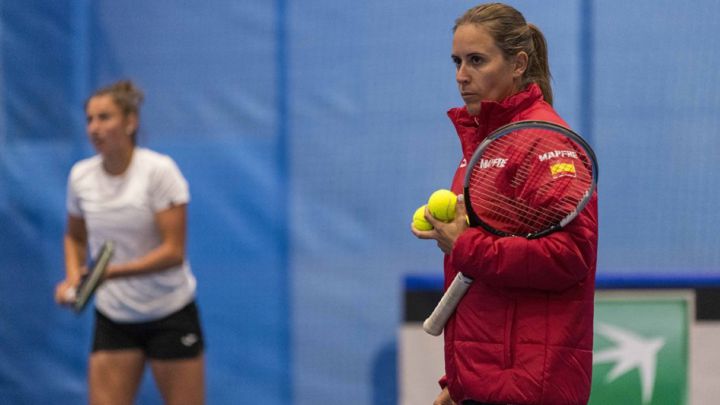 Anabel Medina, captain of the Spanish team of the Billie Jean King Cup Finals in Prague, talks to AS about how he sees the players after the losses of Muguruza and Badosa, and about the possibilities for the National Team to play a good role.
How is the team?
We arrived on Tuesday, before any other team, and we acclimatized to the conditions here, covered and fast track. The girls are training well, very motivated, eager to start.
To what extent have the losses of Muguruza and Badosa disrupted your plans?
Obviously, any captain of any team that had two players in the top ten in the world this season and for whatever reason you lost them, it would upset their plans a little. But from the moment I was aware that they were not going to be able to be there, I worked to look forward, thinking that Spain has very great players. Hopefully you always have trouble choosing between them. There is enthusiasm and desire to fight to the fullest in a new format unknown to all. So the one that best suits, will get more out of the championship.
As a player, do you understand Garbiñe and Paula's decision better?
In the end the reality is that they were between two competitions of a very high level, with a very high demand, very close together on the calendar and with very different conditions. In addition, in a time when there is a lot of fatigue. It can be understood. It is understandable. I was in similar situations. As captain, obviously, I would have loved for them to come, but they had to choose and it is difficult. Ideally, they would have been given the facilities to be in both places, but this has not been the case.
Can it be considered a minor problem due to the great year that Spanish women's tennis has had?
Without a doubt, it is one of the best years in a long time. It has been a long time since we had two players so high, and others like Sara (Sorribes), who have made a very high level jump, like Nuria (Parrizas) and what they are capable of Bolsava and Masarova, two young girls who are playing very well.
So, is Carla Suárez's role more significant now?
Carla's figure in the team was always going to be important. She is a very experienced player, who knows how to play perfectly in this competition and can contribute a lot both on a tennis and human level. I like to have all of them. Let everyone feel important, because many things can happen. She is alert for what may happen.
He has sparred 19-year-old Jessica Bouzas. With what objective?
It is something that I already did in the tie against Japan in the sleeve, when Guiomar Maristany came (22 years), because I think it is something very good for them to live this type of experience. They are girls who are starting in the professional circuit and the Federation supports them with a project. Sharing a week with level players will add a lot for the future.
Against Japan last year there were also Muguruza and Badosa and it was won. How do you see the options for Spain now?
In this type of team competition, everything changes. There are players who are highly motivated and perform very well, and others whose pressure reduces their level of play. So the ranking is not so important. The goal is to focus on the group stage. We have two tough opponents, because Slovakia by name may seem more affordable, but on hard and indoor courts it raises the bar. The United States is the team to beat. We have to fight to get into the semifinals.
Do the conditions you speak of harm or favor Spain?
Obviously, they favor countries like the Czech Republic more, which will have a lot of support and have won a lot of titles lately. We are all going to play under the same conditions. The pity is that if he had played in April, it would have been in Budapest and on land. Moving to November, it was tough, and we are not as good there as on clay. The good thing is that ours have done good results on the hard court. If you ask me, I prefer land, but we don't give up anything.
That's it, to the death, right?
Totally, we are going with the objective of fighting for each point and eliminatory, to give everything on the court. It is a moment of the season in which the forces are very tight, with all the girls very tired. So any extra effort that is put in adds a lot. And that Spain is always very present, because we are very fighters, very fierce and we fight to the end. That is in our favor.