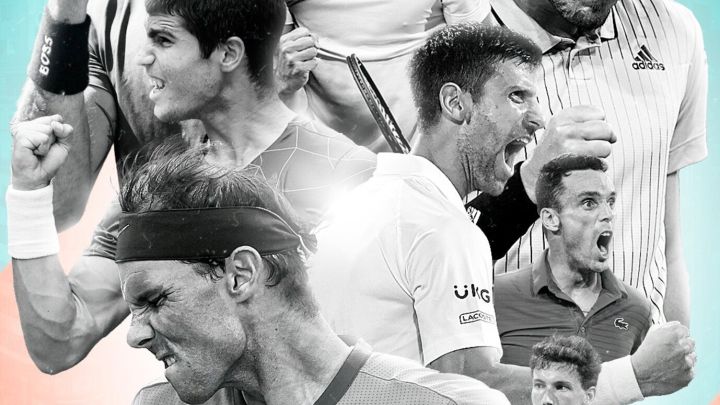 The best rackets in the world from the ATP and the WTA will come together for another year at the Mutua Madrid Open, which this time will be held from April 26 to May 8. And what fans can already know is who has signed up to be part of a list of illustrious names such as Rafael Nadal, Novak Djokovic, Paula Badosa, Garbiñe Muguruza or Carlos Alcaraz. The two world numbers one in the male and female circuits will be present at the Caja Mágica. Both Novak Djokovic, (three-time tournament champion in 2011, 2016, 2019), and Iga Swiatek, who will participate for the second time in their career on the Madrid clay, they lead the entry lists.
Also making up the poster are the two best players of 2022 in the ATP since the season began last January: Nadal and Alcaraz. The No. 1 and No. 2 of the Race (the classification that counts the points in a calendar year), respectively, will be among the favorites for the crown. In the last edition they faced each other for the first time in the second round. While in the women's box, the eyes will be fixed once again on Paula Badosa, who was already one of the great revelations in 2021. Then, she became the Spaniard capable of going the furthest in the history of the tournament, by appearing in the semifinals. Those same heights will be pursued by Garbiñe Muguruza. Both are part of the top ten players in the world at the moment in the WTA Ranking.
Sabalenka and Zverev will defend title
The reigning champions will return to the Manolo Santana stadium to defend their crown. Aryna Sabalenka, in the current Top 5 in the world, and Alexander Zverev, who this week returns to a career-high No. 3., they will leave with the mission of protecting their kingdom. For the German it will be his second attempt, after also winning in 2018. The finalists in 2019 are Stefanos Tsitsipas, in 2017 and 2018 Dominic Thiem or in 2021 Matteo Berrettini They will seek to repeat their good feelings in this edition. Special attention will require young values ​​always on the rise like Jannik Sinner, Felix Auger-Aliassime or Denis Shapovalov.
Krejcikova, current Roland Garros champion, and former World No. 1s Simona Halep (champion in 2016 and 2017), Karolina Pliskova, Victoria Azarenka (two-time finalist in 2011 and 2012) and Angelique Kerber are part of the cast in the Box magical. As well as the three-time winner Petra Kvitova (2011, 2015, 2018). Fans will be able to see rising stars at this WTA 1000 such as Emma Raducanu, 19, and US Open champion; Leylah Fernández, also 19 years old; or Coco Gauff, 18.