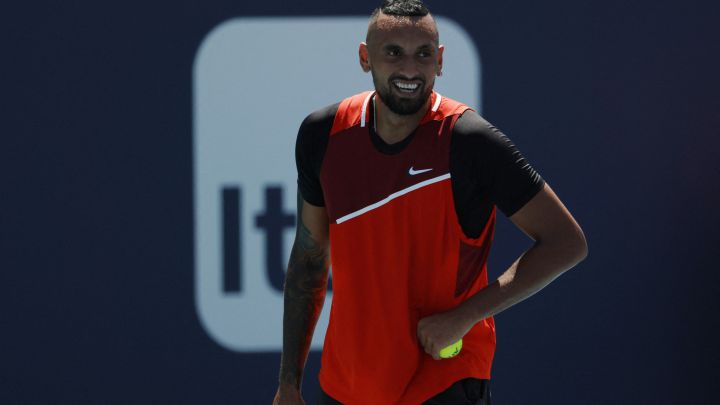 Nick Kyrgios left something to be desired, once again, on a tennis court. The Australian, who fell to Sinner in Miami, He smashed rackets again, argued with the match referee and even received a game penalty for his attitude. Later, at a press conference, Kyrgios made a series of comments that left no one indifferent.
About his anger. "I got frustrated. Can't I get frustrated? Do you get frustrated? Are you at peace in your life? Next question. I mean, look, I just don't think I handle crowds well at all, in my personal opinion. People can have your thoughts on that. I just don't think my point penalty was worth a point penalty. Literally all I said to my team was that I thought Matthew Reid, a former tennis player, could do just as good a job in the umpire's chair. If that's worth a point penalty at 5-3 in the Miami fourth-round first-set tiebreaker at a Masters event for hundreds of thousands of dollars, then that's for you to decide. But I think which is ridiculous, in my opinion.
Carlos Bernardes. "Who's a good referee, for whom? Who thinks he's a good referee? I don't know. The whole crowd was booing a referee, and he's becoming the center of attention, that's not his job. Because nobody in that whole stadium bought a ticket to see him speak or play or do what he does. I think you have Jannik Sinner, who is one of our biggest stars who is going to do special things in this sport, and myself, most of people are there to watch me play, and you've got a guy who's talking. What are you doing? Because the crowd actually hated him so much, they told him to shut up. Then he's interrupting my service game. I can't even It's like speaking to the crowd, and I just say: What are you doing? What are you doing? What are you really doing right now?
Then he's being booed by the crowd like you're just not doing a good job. I've never been part of a match where a referee was hated as much as today, like his feelings were hurt apparently by what I said, but it was by how the crowd felt. You can't be like that if you're a referee. Sorry. By the way, it's all done electronically now, so you're not really doing anything other than calling play, by the way, which any tennis fan could do right now, sit in the chair and just say, 15-Love, Game Kyrgios, Game Sinner.
The fines you have received. "Well, it's not that I don't care. I just don't think it's fair. Indian Wells, I didn't even hit anybody, and I'm getting a 25,000 fine. Where's the balance? How much do I bring in for the sport? That's the problem with tennis. We just don't protect our stars at all. We love to sideline them and being full of bad media. The ATP never defends its players, it never defends them. I've been used to it. To be honest, it sucks. I know I could put in a great week, a great performance. I played seven, six singles matches for which the crowd has been pretty full. And, you know, I have an incident where I throw a racket, and I know it can be dangerous. I know it potentially can be no good. It doesn't hit anybody. 25 grand.
Personally, I don't care, because I know I'm a good person, like I don't really care, but I don't understand why you could fine me today. That is the question. But the ATP will not do anything for him (for the referee of the match). There will be no bad articles about him. He'll just show up at the next event, and everyone forgets how bad he was today. But again, I will have to deal with the negativity, I will have to deal with the bad comments, my girlfriend has to deal with the bad comments, my team has to deal with the bad comments. And the ATP doesn't give a fuck. So that's all".