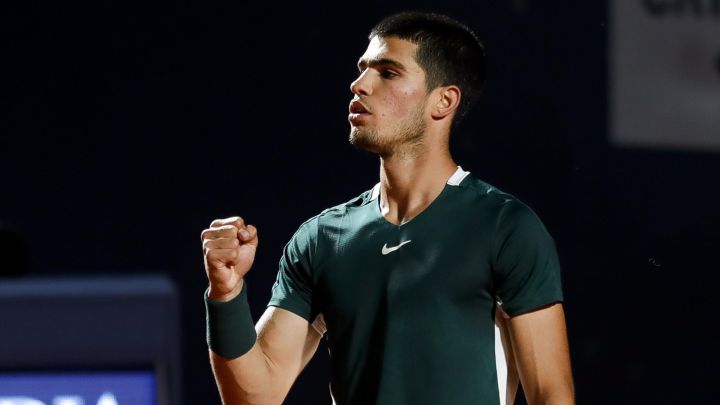 Just a few minutes after beating Stéfanos Tsitsipas in three sets and sneaking into the Barcelona Open Banc Sabadell semifinals for the first time, an amused Carlos Alcaraz appeared in the press room. The day had been hard, with two games and one more achievement: as of Monday, after the defeat of Cameron Norrie in the quarterfinals, he will be top ten in the world.

Feelings after the victory. "I am very happy to be able to play my first semifinals at the Godó. I had the illusion of playing this type of matches and rounds in a tournament that I have always followed, I am excited to be able to play".
The abuse of the left. "Tsitsipas is a player who plays well from the baseline, it is difficult for him to run more forward than to the sides. I would say that I have a good drop shot and I solve it well (he smiled). It is a resource that he used a lot. I try to push the rivals back and then I drop them."
The third set. "Kwon's match from the first round didn't go through my head, but I tried to reset my head, went to the bathroom and tried to focus only on the third set."
The atmosphere of the Godó. "It's been incredible, impressive, I got goosebumps. Everyone shouting Carlos. It's exciting to be able to live these experiences. We had been limited for a while. Living today is incredible."
Pressure to win titles. "I get along well. They are stones that they put in your backpack, but I have things very clear. I follow the path and do not put any player in front of me. I continue my path without haste and everything I get I deserve for everything I I fight. I hope that what has not arrived, will arrive".
Sanction to Tsitsipas. "I never saw anyone go to the bathroom in the middle of the break in a set. I think he wanted to do the same as me, he wanted to stop my good rhythm, but he couldn't, I think it was a strategy to try that." The Greek went to the bathroom and took a minute of the stipulated time for which he was sanctioned with two lost points.
top ten "Everything has come fast."