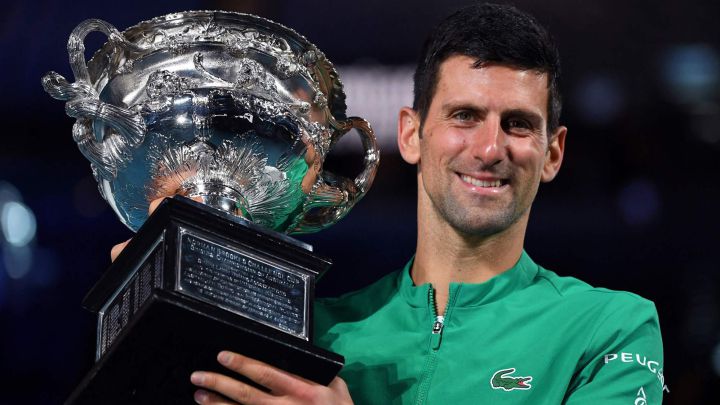 The granting of a medical exemption certificate to Novak Djokovic so that the Serbian tennis player can play the Australian Open despite not having been vaccinated has generated a great debate and much commotion both in Australia, with harsh criticism of the country's government, which has already reiterated that Djokovic has not received special treatment, as in the world of tennis.
The American Tennys Sandgren, who also did not meet the vaccination requirements, confessed to the journalist Ben Rothenberg that he would not play the Australian Open because of these demands and that he did not apply for a medical exemption permit because he did not meet any of the requirements to request it. "I don't have the same pull as Djokovic," he lamented.
More forceful was the former Australian tennis player Sam Groth, who in a column published in the Australian media Herald Sun the Australian was resounding about the granting of the medical exemption to Djokovic. "Novak Djokovic's medical exemption spits in the face of all Australians". Groth seriously charges against Djokovic and his hypocrisy for revealing that he has that exemption. "For a guy who has said he will never reveal anything about his medical condition, to go out and say he has an exemption is very cheeky. Are you willing to say you have an exemption but not why you do? Dislike. (…) He has thrown everyone under the bus and has no obligation to give more information. Look at the shit storm he's created. It is disrespectful to all those who have had to endure this hell for two years. "
To make matters worse, Groth confessed that he was writing this column isolated at home after having tested positive for coronavirus. "I am writing this column in isolation after testing positive for COVID-19. I am one of the millions of Australians who have made an incredible sacrifice in the last two years. We have faced quarantines, restrictions, home classes and we have made so many changes in our lives, so don't tell me that Djokovic doesn't realize how much we Australians have been through. "
Just as critical was Jamie Murray at the press conference after the ATP Cup tie between Great Britain and Canada. "I really don't know what to say about that. I think if I was the one not vaccinated, I wouldn't get an exemption. Oh well… Congratulations to Djokovic for being able to come to Australia to compete. "
Another who joined the criticism was the Spanish Pablo Carreño, that in the press conference after Spain's victory against Serbia in the ATP Cup, he showed his annoyance at this episode. "I don't know if many people have been surprised. The truth is that I could wait for it. Also last year the conditions to come here were very harsh and the top-3 had slightly more favorable conditions. In the end, it is usually the custom that in these cases, the best players tend to have some advantages. I think that the same is not the fairest thing, especially for other players who have not been able to come because they have not been vaccinated or because they have not complied with the demands that were demanded. I don't know exactly why they gave him the exception either, but nothing, we'll see him play here in Melbourne. "
Djokovic's waiver has also caused in social networks the case of the Russian tennis player Natalia Vikhlyantseva was recovered, that she will not be able to play when she is vaccinated with Sputnik V (a vaccine not recognized in Australia) or the case of the Indian tennis player Aman Dahiya, who cannot play the junior tournament of the Australian Open since the exemption has been denied tol not be vaccinated … but because in India vaccination of those under 18 years of age has not yet begun.
Other tennis players like Liam Broady, James Duckworth or Alex de Miñaur were more cautious on the subject,Although they stated that if you meet the criteria set by the organizers, you should be able to play in the tournament. Others like Jordan Thompson were more akin to Djokovic's presence in Australia. "I think it is good that he comes to play here. We have high levels of vaccination in Australia. I am very happy that he can play. I think getting vaccinated should be everyone's choice. I see that there are people who are upset and I know that they should be vaccinated to be able to play, but people being angry, I don't give a shit. If he doesn't want to get vaccinated, I shouldn't worry no matter how much people think. I'm glad Djokovic is coming to play in Australia. "
For their part, the extenistas Rennae Stubs and Chris Evert shared a tweet in which Reuters journalist Byron Kaye published a photo of several toilets with PPE's with the comment: "Australian Open ball boys hitting the court for a Novak Djokovic match", giving the subject a bit of humor.
Something more critical was shown Pam Shriver, who harshly charged Australian authorities by failing to show transparency with the details to grant Djokovic this exemption. "Can someone clarify and give me more details on the part of getting a medical exemption from ATAGI? I understand that the privacy that receives the exemption is understandable, but the details of the process should be transparent."