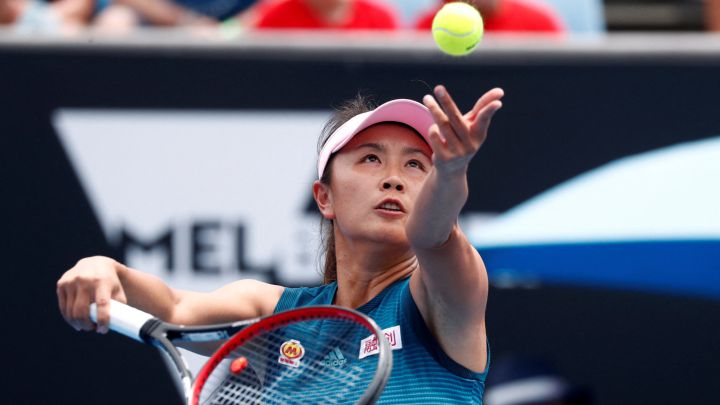 The Chinese tennis player Peng Shuai, whose case has had the world of tennis on edge and sports after she denounced on November 2 in a post on the Weibo social network that she had been sexually assaulted by the country's former deputy prime minister, Zhang Gaoli, has granted an interview to L'Équipe in Beijing after all the controversy that has surrounded this case.
Shuai, a semifinalist at the US Open in 2014 and who became number 1 in the world in doubles that year, was grateful for the messages received, although she also stated that she does not understand why there was so much concern for her. "I would like to thank all the ATP and WTA tennis players and athletes and personalities who cared about me. I didn't know there was such a stir. Why so much concern?"
The Chinese tennis player also wanted to give her own version of what happened with that message, assuring that she was never a victim of sexual assault and that the publication was deleted by herself. "I have already responded to what happened after my post on Weibo in an interview in Shanghai and in an email I sent to the WTA. That post has created a huge misunderstanding outside of China. I hope it doesn't get distorted anymore and that we don't talk about it anymore. sexual assault? I never said someone sexually assaulted me. I deleted the post. Why? Because I wanted".
Shuai also took the opportunity to say that she was never missing after the publication of this message and assures that she is leading a normal life. "I never disappeared. As I received so many messages it was impossible to reply to all of them. I have been in contact with my closest friends and also with the WTA but at the beginning of the year it changed its communication system. But I have always been in contact with my friends, I don't know why it was said that he had disappeared.Besides, my life is as it should be, there is nothing special about it. I would like people to understand that I am a normal girl and tennis player, who is sometimes calm, other times happy and other times sad or under very strong pressure. All the normal emotions that women experience are also experienced and felt."