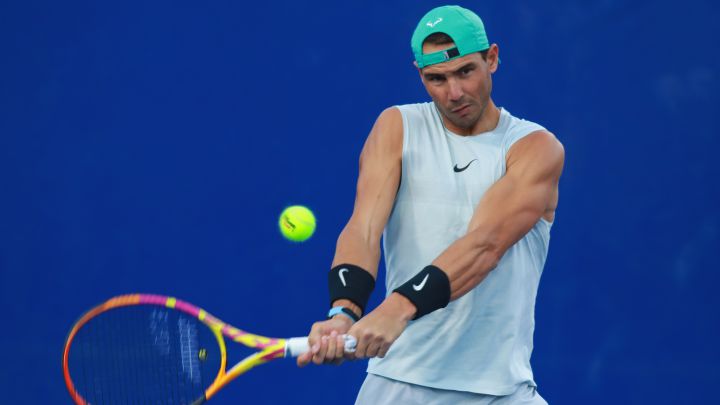 With optimism and a good face, Rafa Nadal appeared this Sunday before the media in Acapulcowhere he will compete in the Mexican Open starting Tuesday, with the American Reilly Opelka as his rival. AS agreed to the press conference to ask the reigning Australian Open champion and winner of the Central American tournament for the last time in 2020 on the reasons that led him to make the decision to participate.
"The expectation is to play. I come for two very simple and easy to understand reasons. On the one hand, I have played very little for two years and I feel like it. And on the other, after Australia I had to analyze how my body would respond, I've always had a downturn after the Grand Slams and I didn't notice it at the beginning, but later. But at the level of pain, my body was responding relatively well, and that led me to make the decision to come. I am happy to play, to continue competing beyond the results after a start to the year infinitely better than I could have ever imagined. The painting is very difficult, but I have hope My expectation is to compete well and try to give my best and enjoy myself," Nadal explained.
The Manacorí spoke about the vaccination issue related to Djokovic case: "It will affect his history if he can play or not. It will affect him. I don't know if the Grand Slams. Everyone makes their own decisions and you have to live with them. Hopefully the pandemic will end and there will be no more deaths in the world. That this horror ends and that everyone can play, whether they are vaccinated or not. It is something small next to what is happening globally due to the worst pandemic that has been remembered in many years.
Life goes on

On the other hand, Nadal assured that his life has not changed after the success of Australia: "Nothing has changed, from 20 to 21 the percentage is not very big. What has changed is that I am able to play tennis. What happened in Australia was totally unexpected, although little by little I was feeling better. I'm not 20 years old, but 35, and there is an experience behind success and bad times, that's why one approaches these things in a more leisurely and calm way. I value what happened in Melbourne as a personal success, beyond the fact that it was the 21st title, for everything that had happened before and the effort that it entailed." And he explained why he wants to continue fighting: "The problems I've had have been physical, more than anything else. What keeps me going is seeing that I was able to compete for many hours on the track and that gives me energy to get ahead. I've followed an appropriate line of work and I've done things quite well". He also spoke about his first rival: "I had a very difficult first round, because he is one of the most complicated rivals out there right now, due to his style of play. , champion a week ago and finalist in this one. I come prepared for a very difficult premiere on Tuesday."