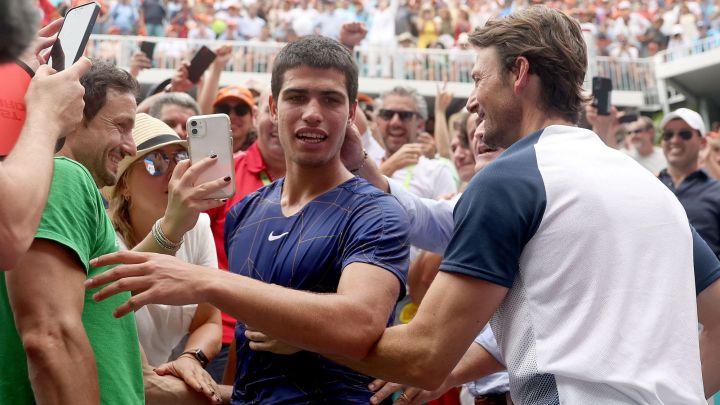 "We're not going to do anything weird or different from what we've been doing the last few months. We're going to come back, we're going to play a little bit of golf a day or two.we'll stay relaxed and then we'll go back to work," said Juan Carlos Ferrero, the coach of Carlos Alcarazwhen asked in Miami about the plans they had after the great success of the title in the American Masters 1,000.
He also kept his balance when asked if he was surprised by his pupil's rapid rise in the circuit: "Yes and no. His potential I have known for maybe two, three years, because I remember when he was training with some of the players who were higher in the ranking than him, he was 16 or 17 years old, and he could adapt his game to the level of them"said the Valencian. "It means he's got something and he's going to keep working on it every day. His potential was there and I'm here to let it flow and play and keep things on track. I wasn't surprised at all, but it's been very, very fast. It's not easy to do it," he continued.
MASTER 1000 CHAMPION!🏆@MiamiOpen

No words to describe the feeling I have right now, my first master 1000!
I want to say that I am a very lucky boy to have the team that I have, friends and people who help me, support me in my day to day, THE TRIUMPH IS YOURS!! pic.twitter.com/BAck6lDki1

– Carlos Alcaraz (@alcarazcarlos03) April 4, 2022
Alcaraz is second in the race for the ATP Finals, which means that there has only been one player better than him in terms of points so far this year, Rafa Nadal. That and his level of play trigger his ambition, although Ferrero asks that he be allowed to "flow". "I think he is capable of having a great year, even, and let's cross our fingers, in the Grand Slams, maybe it's the next step, being in the second week. But the team will make a bubble for him, so that he stays calm at home these days and then works normally and goes to Monte Carlo to try to give his best, as always."
If all goes well and after resting for a couple of days and playing a little golf, Alcaraz will start preparing for his return to the slopes, which will take place in Monte Carlo (April 10 to 17). The idea is that he then plays in Barcelona, ​​Madrid and Rome before Roland Garros (May 22 to May 5). On the gravel tour, the Murcian defends the 387 points that he added last year between Marbella (90), Estoril (10), Madrid (45), Oeiras (125) and Paris (115). He will lose 225 for sure, but he has a lot to gain, so it is very likely that he will break into the top ten of the ranking soon.
Dirt or hard court?
Ferrero spoke about Carlos' preferences in terms of surfaces, and revealed that he still has doubts: "We're not sure (smiling). We talk about this sometimes, and he tells me he's not sure now. His type of play includes going forward a lot, going to the net and playing aggressive all the time. He was completely sure that his game could adapt to this type of hard court and even grass. I think when he is 100% trained, maybe he can give a little more on clay. But let's keep the door open that maybe he's going to be better on hard courts in the future."