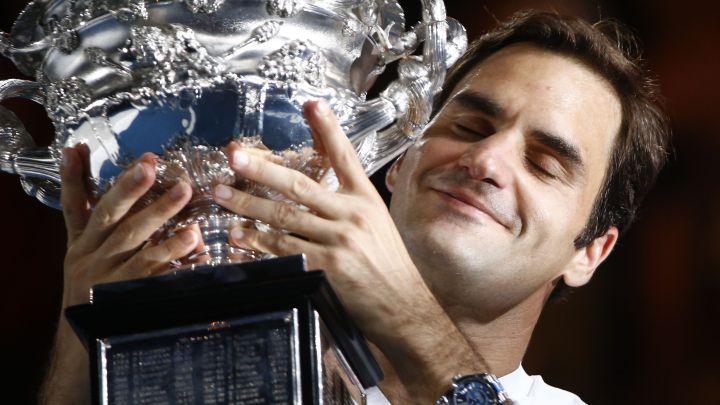 Roger Federer does not give up in the particular battle to be the tennis player with the most Grand Slam in the history of tennis despite the fact that he is the most complicated compared to Rafa Nadal and Novak Djokovic due to his recent injuries and his age (he will turn 41 on August 8).
However, and despite the fact that Djokovic and Nadal have been devouring one after another the majority of the records of the Grand Slam tournaments, 'His Majesty' can still boast of a milestone that the Serbian and the Balearic have not yet achieved.
According to the portal Essentially Sports, Federer is the Big Three tennis player who has reached the most Grand Slam finals consecutively, since the Swiss played 10 finals uninterruptedly from Wimbledon in 2005 to the US Open in 2007. Of these 10 finals, Federer managed to win 8 (three Wimbledon, three US Open and 2 Australian Open) and only lost in the two Roland Garros finals he played, both against the Spanish Rafa Nadal.
The one who has been closest to Federer's feat has been Novak Djokovic, who managed to chain 6 Grand Slam finals between the 2015 Australian Open and 2016 Roland Garros with a balance of 5 wins (2 Australian Open, 1 Wimbledon, 1 US Open and 1 Roland Garros) and one loss, against Stan Wawrinka in the 2015 Roland Garros final.
One less consecutive final has been achieved Rafa Nadal, who has his record in 5 Grand Slam finals in a row between Roland Garros 2011 and Roland Garros 2012 in which he added 2 Roland Garros and lost the finals of Wimbledon, US Open and Australian Open against Novak Djokovic. 'His Majesty of him' is reluctant to give up in the battle for Grand Slam supremacy and 10 consecutive Grand Slam finals prove it.