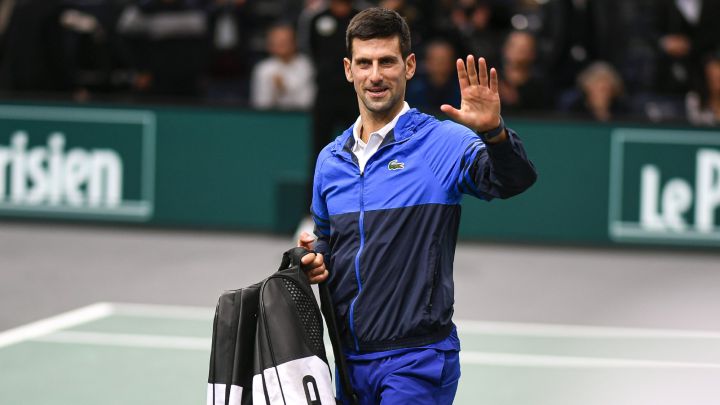 Novak Djokovic, the lion who was injured in the US Open final, returned on Tuesday at the 1,000 Masters in Paris, 50 days after Daniil Medvedev closed the Grand Slam door on him. And with only one match (victory in three sets against Marton Fucsovics) he is already in the quarterfinals. Yesterday, Gael Monfils, with whom he presented a 17-0, was erased due to physical problems before going on the court. This Friday, around 3:30 p.m. he will play against Taylor Fritz (24 years old and 26th in the world), who knocked down Cameron Norrie 6-3, 7-6 (3).
"That defeat (in New York) came at the worst or best time for me, depending on how you look at it. I ended up disappointed, of course, but I was lucky enough to feel the love of the stands and the support of an audience that I never had. They played my heart. The defeat made me a little more humble with my game and my career, it reminded me of reality ", analyzed the Serbian, champion in Australia, Roland Garros and Wimbledon, when stepping on Paris. He came out of the US Open so touched that he doubted whether he would play again this year. But after reconnecting in Serbia, he realized that the goals ahead were worth it.
-Record number one.
Djokovic has finished at the top of the rankings six years in a row, like Pete Sampras (1993-1998) and could be guaranteed to surpass the American in Paris. Medvedev still has options, but by winning the title, the Serb secures the throne (other combinations also fit). The Russian came back yesterday from Sebastian Korda 4-6, 6-1 and 6-3 and is still in the fight. "The number one is at stake between Medvedev and me, although I am in good disposition by points and ranking. It is the final objective of the season", remembers Djokovic.
-Record of Masters 1,000.
A sixth victory in Paris would give Djokovic (34) the lead in Masters 1,000 titles, in which he tied with the now-injured Rafa Nadal. He was ahead, but his loss to the Spaniard this year in Rome balanced the balance.
-ATP Finals.
Roger Federer, in dry dock in his 40s since Wimbledon after relapsing from his knee injury, has six titles. The Serbian, five like Ivan Lendl. The last one, in 2015. From November 14 to 21, and its premiere in Turin, Djokovic will have to stop Medvedev, Tsitsipas and Zverev, last champions.
-Davis cup.
Djokovic and his Serbian colleagues left Madrid in 2019 in tears after losing in the quarterfinals to Russia. And this year he has enlisted again for the finals (November 25-December 5). He was already champion in 2010, but wants a second Salad Bowl. "It is being a mentally exhausting season, very successful, but one that has required a lot of energy to deal with issues off the court: expectations, pressures, records. With all this, I am happy with how it is going," says Djokovic, that is not yet satiated.