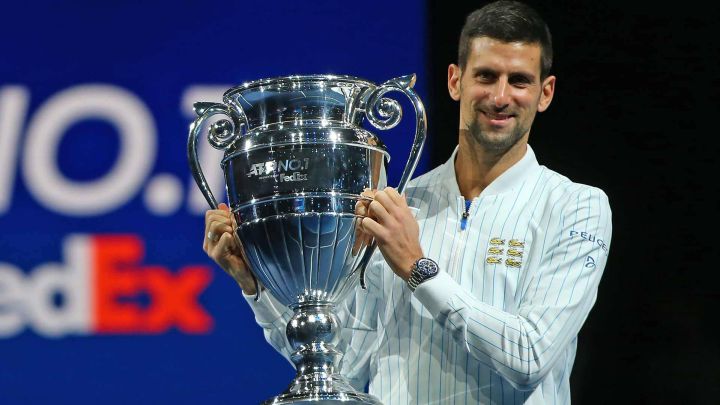 Novak Djokovic will become the first tennis player to finish as world number one seven years since the men's ranking was established in 1973. He will thus break the absolute record by breaking the tie to six that he maintains with the American Pete Sampras, ahead of Jimmy Connors, Roger Federer and Rafa Nadal, who added five. The defeat of number two Daniil Medvedev in the Round of 16 at Indian Wells virtually grants the Serbian the prize of finishing another season as the leader of the ATP rankings.
Years finished as number one
Djokovic, who decided not to participate in the Masters 1,000 in the California desert and has not played since he fell in the final of the US Open last September, He now takes 1,800 points from Medvedev, and only defends 490 between now and the end of the course, 90 in Vienna and 400 in the ATP FinalsWhile the Russian must try to maintain 2,635 because of his successful 2020 final, when he added 45 goals in St. Petersburg, 90 in Vienna, 1,000 as champion in Paris-Berçy and 1,500 as undefeated winner of the London Finals.
Virtual ranking as of 10-14-2021
Position
Player
Points
1
Novak Djokovic (Ser)
11,430
2
Daniil Medvedev (Rus)
9,630
3
Stefanos Tsitsipas (Gre)
7,995
4
Alexander Zverev (Ale)
6,930
5
Rafael Nadal (Esp)
5,635
6
Andrey Rublev (Rus)
5,560
7
Matteo Berrettini (Ita)
4,858
8
Dominic Thiem (Ita)
3,815
9
Casper Ruud (Nor)
3,615
10
Hubert Hurkacz (Pol)
3,378
Medvedev is enrolled in the ATP 250 in Moscow from which he comes and later, in principle, he will play in Paris (November 1 to 7) and in the Masters tournament, which moves to Turin (November 14 to 21). While Djokovic is only on the list of the French Masters 1,000, although he could give up playing it, as he did with Indian Wells. Nor has he confirmed his participation in the culmination of the season, which will take place in Italy, and where he could receive the trophy that would accredit him, for the seventh time, as number one of the year. He has been at the top of the world throne for 67 consecutive weeks and has already accumulated 342, an absolute record, at different times.