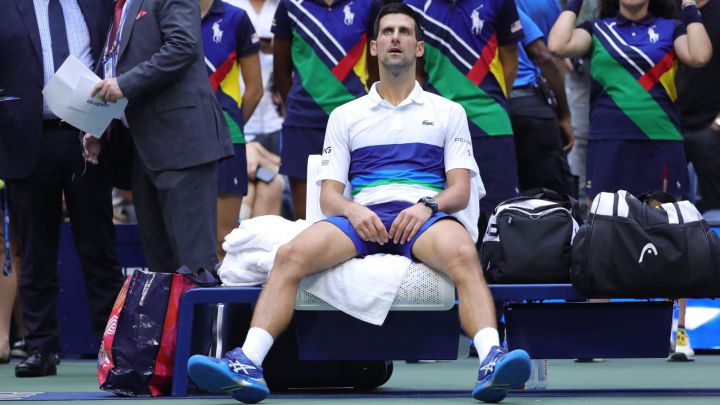 Novak Djokovic experienced one of the saddest days of his career on Sunday, even if at the trophy ceremony of the US Open men's final said through tears that he had "a heart full of joy" for the unconditional support of the public. The reality is that the Serbian, who hoped to lift his 21st trophy in majors to surpass the record of 20 that he shared with Rafa Nadal and Roger Federer and completing the calendar Grand Slam, which consists of winning all four in the same year, fell in three sets (triple 6-4) against Daniil Medvedev, who was far superior. Rod Laver will remain the last ATP player to do so, in 1969.
Just before the last game of the match, shortly after getting his only break, Djokovic burst into tears on the bench. "I wasn't expecting anything, but the amount of support, energy and love that I received from people was something that I will remember forever. That is why I burst into tears. The emotion was so strong …". That was the world's number one explanation of a fact that everyone interpreted as an act of liberation from all the pressure and tension accumulated for weeks by the magnitude of the objectives he was pursuing. In the second set, after wasting six break points, the Balkan smashed his racket (he will have to pay more than 4,000 euros for "misconduct"). Djokovic argued that his legs "weren't on the track" and it felt "slow". "I made a lot of unforced errors (38), the serve didn't work for me and I felt constant pressure on my serves."
The 'extra' hours he spent on court in matches against inferior opponents, such as Rune, Nishikori and Brooksby, took their toll. "I spent more time on the court than Medvedev. I had a very emotionally demanding period in the last five, six months. Grand Slams, Olympics, Belgrade tournaments. All those things and accumulated emotions came together here, "he argued.
Missed chance
The missed opportunity in a major in which neither Nadal nor Federer nor the current champion, Dominic Thiem competed, has more significance than it seems, because Medvedev proved that Nole, at 34, is not invincible on hard court. And in Australia, four months from now, your old enemies are likely to return and your new ones will face you with more confidence. Although the Balkan does not give up: "In tennis we learn to turn the page quickly. Very soon there will be more challenges. I have learned to overcome these kinds of tough defeats, the ones that hurt the most. I will try to draw some lessons, be stronger and move on. I still love this sport and I feel good on the court. As long as there is motivation, I will continue. I want to win more Slams. "With the media in his country, the speech was more pessimistic." I don't have a plan, nothing. I do not know if I will play or where. I have other priorities. I want to have more time for my children, being absent hurts me a lot … ", he muttered before crying again and crushing himself. Very few times had Djokovic been seen so dejected.

The historic battle will continue in Australia
The battle for hegemony of the Grand Slams, still tied at 20 titles after Djokovic's defeat against Medvedev in the US Open final, will continue next January with the doubts of Nadal and Federer, who said goodbye to this season due to different injuries (left foot and right knee, respectively). Both are doubtful for the beginning of the next course. The Spanish revealed in his social networks, with a photo in which he is seen in a cast and with crutches, that he had undergone treatment in Barcelona and would be "a few days off the slopes and a few weeks off the slopes." Tomorrow he will reappear publicly in Manacor, in the presentation of a documentary about the Rafa Nadal Academy.
Federer, for his part, has not stepped on a track, unless it is known, since he announced that he would go under the knife again to undergo another intervention that would have him without practicing "several months". In the Big Three, and except for misfortune, only Djokovic is clear about his participation in Melbourne, for health and motivation, although he could arrive at the appointment with little preparation, As in the US Open, if he decides, as he hinted on Sunday, to play little between now and the end of the year.